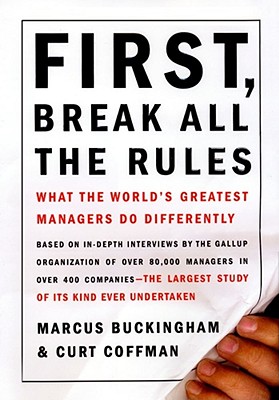 First, Break All The Rules
What The Worlds Greatest Managers Do Differently
Hardcover

* Individual store prices may vary.
Other Editions of This Title:
Compact Disc (1/3/2017)
MP3 CD (1/3/2017)
Praise For First, Break All The Rules: What The Worlds Greatest Managers Do Differently…
"Out of hundreds of books about improving organizational performance, here is one that is based on extensive empirical evidence and a book that focuses on specific actions managers can take to make their organizations better today! In a world in which managing people provides the differentiating advantage, First, Break All the Rules is a must-read."–Jeffrey Pfeffer Professor, Stanford Business School and author of The Human Equation: Building Profits by Putting People First

"This book challenges basic beliefs of great management with powerful evidence and a compelling argument. First, Break All the Rules is essential reading."–Bradbury H. Anderson President and COO, Best Buy

"This is it! With compelling insight backed by powerful Gallup data, Buckingham and Coffman have built the unshakable foundation of effective management. For the first time, a clear pathway has been identified for creating engaged employees and high-performance work units. It has changed the way I approach developing managers. First, Break All the Rules is a critical resource for every front-line supervisor, middle manager, and institutional leader."–Michael W. Morrison Dean, University of Toyota

"First, Break All the Rules is nothing short of revolutionary in its concepts and ideas. It explains why so many traditional notions and practices are counterproductive in business today. Equally important, the book presents a simpler, truer model complete with specific actions that have allowed our organization to achieve significant improvements in productivity, employee engagement, customer satisfaction, and profit."–Kevin Cuthbert Vice President, Human Resources, Swissôtel

"Finally, something definitive about what makes for a great workplace."–Harriet Johnson Brackey Miami Herald

"Within the last several years, systems and the Internet have assumed a preeminent role in management thinking, to the detriment of the role of people in the workplace. Buckingham and Coffman prove just how crucial good people -- and specifically great managers -- are to the success of any organization."–Bernie Marcus former Chairman and CEO, Home Depot

"The rational, measurement-based approach, for which Gallup has so long been famous, has increased the tangibility of our intangible assets, as well as our ability to manage them. First, Break All the Rules shows us how."–David P. Norton President, The Balanced Scorecard Collaborative, Inc.; coauthor of The Balanced Scorecard

"As the authors put it, "a great deal of the value of a company lies between the ears of its employees." The key to success is growing that value by listening to and understanding what lies in their hearts -- Mssrs. Buckingham and Coffman have found a direct way to measure and make that critical connection. At Carlson Companies, their skills are helping us become the truly caring company that will succeed in the marketplace of the future."–Marilyn Carlson Nelson President and CEO, Carlson Companies
Gallup Press, 9780684852867, 272pp.
Publication Date: May 5, 1999
About the Author
Marcus Buckingham spent seventeen years at the Gallup Organization, where he conducted research into the world's best leaders, managers, and workplaces. The Gallup research later became the basis for the bestselling books First, Break All the Rules: What the World's Best Managers Do Differently (Simon & Schuster) and Now, Discover Your Strengths (Free Press), both coauthored by Buckingham. Buckingham has been the subject of in-depth profiles in The New York Times, Fortune, BusinessWeek and Fast Company. He now has his own company, providing strengths-based consulting, training, and e-learning. In 2007 Buckingham founded TMBC to create strengths-based management training solutions for organizations worldwide, and he spreads the strengths message in keynote addresses to over 250,000 people around the globe each year. He lives in Los Angeles with his wife Jane and children Jackson and Lilia. For more information visit: marcusbuckingham.com
or
Not Currently Available for Direct Purchase