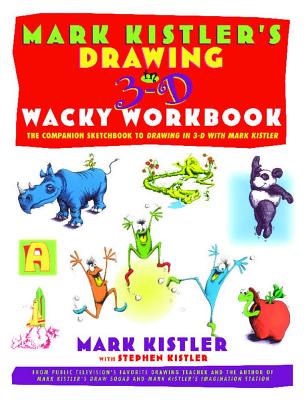 Mark Kistler's Drawing in 3-D Wack Workbook
The Companion Sketchbook to Drawing in 3-D with Mark Kistler
Paperback

* Individual store prices may vary.
Description
Practicing and perfecting Mark Kistler's wacky drawings will be even more fun with this fully customized, turbo-charged 3-D sketchbook!
If you've read Drawing in 3-D with Mark Kistler, you've learned how to sketch a colossal collection of 3-D pictures. Now, with this large, easy-to-use workbook, you've got all the space you need to practice. Just pick a project in the "Dynamic Drawing Directory" and get down to some creatively cool 3-D artwork. Mark Kistler's Drawing in 3-D Wacky Workbook is better than any old blank sketchpad because you can actually see the final drawing you're trying to master. And if you need help on a step or two, each perforated page is cross-referenced to the relevant lesson in Drawing in 3-D with Mark Kistler. In no time at all, you'll be working on amazing androids, bug-eyed birds, and many other imaginative masterpieces.
Touchstone, 9780684853376, 176pp.
Publication Date: August 6, 1998
About the Author
Mark Kistler is a cartoonist, an illustrator, and the producer and star of Mark Kistler's Imagination Station, currently airing on public television nationwide. The author of the wildly popular drawing books Mark Kistler's Draw Squad and Mark Kistler's Imagination Station, Kistler lives in Santa Barbara, California.