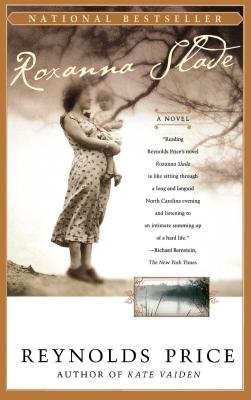 Roxanna Slade (Paperback)
Scribner Book Company, 9780684853734, 304pp.
Publication Date: April 1, 1999
Description
Not since Reynolds Price's award-winning, bestselling novel Kate Vaiden has he told a woman's story in her own voice. Roxanna Slade is this woman.
Roxanna begins her story on her twentieth birthday -- a day that introduces her to the harsh realities of adulthood and changes the course of her life forever. From this day on, Roxanna is quick to share with the reader the intimate details of ninety years of life in North Carolina. Her beguiling tale is one that boldly reflects the high and low moments in the development of the modern South and the nation as well as the inner strength of a woman possessed of a piercingly clear vision, forthright hungers and immense vitality.
Praise For Roxanna Slade…
Richard Bernstein
The New York Times

Reading Reynolds Price's novel Roxanna Slade is like sitting through a long and languid North Carolina evening and listening to an intimate summing up of a hard life.


Diana Postlethwaite
The Washington Post

Reading Roxanna Slade is like sitting at the feet of the wisest, most engaging, truth-tellingest grandmother imaginable....Here is language you can swim in, inhale, savor on the tip of your tongue.


David Weigand
San Francisco Chronicle

Roxanna Slade is a profoundly and provocatively hope-filled book -- one might even say spiritual....Masterful...compelling.


Charles Frazier
author of Cold Mountain

What a privilege to sit down with this book and let Roxanna Slade's wise, strong voice talk in your mind for a measure of hours about the profound consequence of ordinary lives.


James Schiff
The Raleigh News & Observer

A virtuoso performance...through Roxanna's voice Price demonstrates that he, more than any of his contemporaries, is indeed a singer of stories.


Janet Burroway
The New York Times Book Review

A chronicler of decency, pluck and joy, in novel after novel [Price] has given us the weight and worth of the ordinary.


Ellen Kanner
The Miami Herald

Roxanna Slade shows that in a world of deceit, a simple, good woman is something exceptional. She can tell a good story if you have the time to listen.


Barbara Holliday
Detroit Free Press

Reynolds Price may well be the dean of Southern writers.


Anne Rivers Siddons


Extraordinary. Price knows all there is to know about the American South, and Roxanna Slade is what he knows. It's a powerful book in its deceptive simplicity, vivid and particular. I loved it.


Polly Paddock Gossett
The Charlotte Observer

Price proves yet again why he is one of America's most esteemed writers. His prose is rich and lyrical; his insights keen; his ability to slip inside the skin of his characters (especially women) astounding.
Advertisement