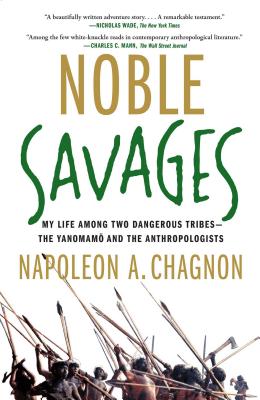 Noble Savages (Paperback)
My Life Among Two Dangerous Tribes -- the Yanomamo and the Anthropologists
Simon & Schuster, 9780684855110, 544pp.
Publication Date: February 18, 2014
Other Editions of This Title:
Hardcover (2/19/2013)
* Individual store prices may vary.
Description
"One of history's greatest anthropologists—and a rip-roaring storyteller—recounts his life with an endangered Amazonian tribe and the mind-boggling controversies his work ignited" (Steven Pinker, author of The Better Angels of Our Nature).

Napoleon Chagnon's Noble Savages is the remarkable memoir of a life dedicated to science—and a revealing account of the clash between science and political activism.

When Napoleon Chagnon arrived in Venezuela's Amazon region in 1964 to study the Yanomamö Indians, he expected to find Rousseau's "noble savage." Instead he found a shockingly violent society. He spent years living among the Yanomamö, observing their often tyrannical headmen, learning to survive under primitive and dangerous conditions. When he published his observations, a firestorm of controversy swept through anthropology departments. Chagnon was vilified by other anthropologists, condemned by his professional association (which subsequently rescinded its reprimand), and ultimately forced to give up his fieldwork. Throughout his ordeal, he never wavered in his defense of science. In 2012 he was elected to the National Academy of Sciences.
About the Author
Napoleon A. Chagnon is distinguished research professor at the University of Missouri and adjunct research scientist at the University of Michigan, and a member of the National Academy of Sciences. He formerly taught at the University of California-Santa Barbara, Penn State, Northwestern, and the University of Michigan. He is the author of five previous academic books and lives in Columbia, Missouri.
Praise For Noble Savages: My Life Among Two Dangerous Tribes -- the Yanomamo and the Anthropologists…
"One of history's greatest anthropologists—and a rip-roaring story-teller—recounts his life with an endangered Amazonian tribe and the mind-boggling controversies his work ignited. Noble Savages is rich with insights into human nature, and an entertaining interlude with a remarkable man."
— Steven Pinker, Harvard College Professor of Psychology, Harvard University, and the author of The Better Angels of Our Nature: Why Violence Has Declined

"Noble Savages is an epic—not only of one of the most extraordinary physical and intellectual adventures ever experienced by a major scientist, but also the history of one of the most significant events in the early, often turbulent meeting between evolutionary biology and the social sciences."
— E. O. Wilson, Pellegrino University Professor Emeritus, Harvard University, and the author of The Social Conquest of Earth and Sociobiology

"Very few people have led lives as fascinating as Napoleon Chagnon's, or have lived among people as dangerous as the Yanomamö, and fewer still have his courage or his honor. Noble Savages is a page-turning masterpiece. You don't need to know anything about anthropology to read it. By the time you finish, you'll know a lot."
— Elizabeth Marshall Thomas, author of The Old Way and The Harmless People

"Noble Savages is Napoleon Chagnon's equal-time response to the libels that were piled upon him by reckless journalists and irresponsible colleagues. For those who followed the debate it is a welcome summary, and for those who did not it is a brilliant introduction to the innocent nobility of the fierce Yanomamö and the petty savagery of the mean-minded savants who saw their outworn ideologies under attack. Chagnon was always himself a fighter and this book is his final knockout punch in a fight he didn't pick, but has most assuredly won."
— Robin Fox, University Professor of Social Theory, Rutgers University and author of The Tribal Imagination: Civilization and the Savage Mind

"A beautifully written adventure story. . . . Noble Savages is a remarkable testament to an engineer's 35-year effort to unravel the complex working of an untouched human society."
— Nicholas Wade

"One of the most interesting anthropology books I have ever read. . . . [Chagnon's] portrayal of society's origins has so much to say about the nature of our species that it should be examined thoughtfully."
— Charles C. Mann

"Engaging. . . . A fascinating portrayal of the discomfort and danger that anthropologists working in remote areas face. The book is at its most entertaining when documenting the challenges of everyday life in the jungle — how to sleep fitfully in a hammock among enemies who might attempt to assassinate you in your sleep or how to net a juicy tapir for your dinner."
— Rachel Newcomb

"This memoir, Chagnon's first book for a general audience, recounts with confident prose and self-effacing humor his intense immersion, from 1964 onward, within this fascinating people and their jungle environment. . . . In this invaluable book, Chagnon delivers a gripping adventure travelogue. His take on the corrupting relationship between politics and science is as likely to re-stoke the flames of debate as settle outstanding accounts."
— Publishers Weekly

"Fascinating reading for anyone interested in native peoples, history and where we all come from."
— Curt Schleier

"It's not hyperbole to call Chagnon the most controversial and famous anthropologist in America. . . . [Noble Savages] is a memoir that offers a highly readable mixture of adventure, science, and scandal."
— Nick Romeo

"An important contribution to the debates over the methods and theories used to understand humans in anthropology and evolutionary sciences—and to debates over how visionaries become the targets of those who do not share their vision."
— Douglas William Hume