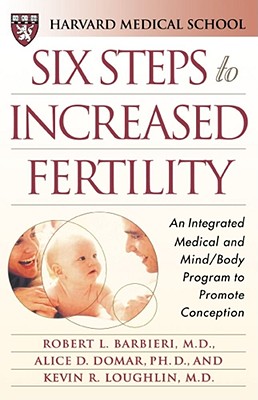 Six Steps to Increased Fertility (Paperback)
An Integrated Medical and Mind/Body Program to Promote Conception
Atria Books, 9780684855233, 256pp.
Publication Date: December 11, 2001
* Individual store prices may vary.
Description
YES, YOU PROBABLY CAN GET PREGNANT
...and the really good news is that most of you can conceive naturally, without expensive high-tech intervention. The six-step mind/body fertility enhancement program from Harvard Medical School could give you the answer.
How can I relax when I'm worried sick about getting pregnant?

Can antidepressants affect my fertility?

Is there some medicine I can take to increase my sperm production?

Does being a vegetarian increase or decrease my chances of conception?
Start to help yourself by learning the newest information on how simple lifestyle changes affect fertility.
About the Author
Robert L. Barbieri, M.D., is the chairman of the Department of Obstetrics and Gynecology at Brigham and Women's Hospital in Boston and the Kate Macy Ladd Professor of Obstetrics, Gynecology and Reproductive Biology at Harvard Medical School.

Alice D. Domar, Ph.D., is the director of the Mind/Body Medical Institute for Women's Health at Beth Israel Deaconess Medical Center in Boston, where she is also a senior scientist. She is an assistant professor of medicine at Harvard Medical School and the coauthor of Healing Mind, Healthy Woman and Self-Nurture: Learning to Care for Yourself as Effectively as You Care for Everyone Else.

Kevin R. Loughlin, M.D., is a professor of surgery at Brigham and Women's Hospital in Boston and a professor at Harvard Medical School.
Praise For Six Steps to Increased Fertility: An Integrated Medical and Mind/Body Program to Promote Conception…
Alan H. DeCherney, M.D. professor and chair, Department of Obstetrics and Gynecology, UCLA School of Medicine This book will be immensely helpful to infertile couples as well as the professionals who provide care for them. The combination of "mind and body" makes this a memorable read.

Rose E. Frisch, Ph.D. Associate Professor of Population Sciences Emerita, Harvard School of Public Health An especially important, useful book... Highly recommended.