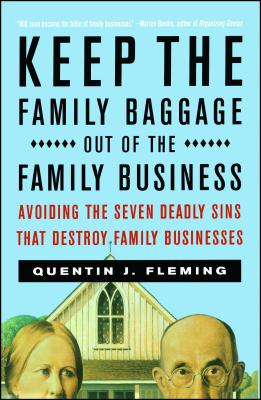 Keep the Family Baggage Out of the Family Business (Paperback)
Avoiding the Seven Deadly Sins That Destroy Family Businesses
Touchstone, 9780684856049, 336pp.
Publication Date: February 29, 2000
* Individual store prices may vary.
Description
Family businesses epitomize the best of the American Dream: you work hard, you're your own boss, you leave a lasting legacy to your children—or do you? Statistics show that only 30% of family businesses survive to the second generation, and a paltry 10% survive to the third generation. Family businesses are in trouble, and their survival is crucial to us all. Their success ensures our country's success—and their failure can drastically affect our economic health.
In Keep the Family Baggage Out of the Family Business, family business expert Quentin Fleming has identified the Seven Deadly Sins that are invariably responsible for a family business's demise. Keep the Family Baggage Out of the Family Business presents practical and accessible advice geared toward the average family business owner or employee and is an invaluable tool for helping family businesses not only survive but thrive.
About the Author
Quentin J. Fleming is a management consultant with more than a decade of consulting experience. He has worked with a wide variety of clients ranging from Fortune 500 companies to small entrepreneurial firms. He lives in Los Angeles, California, and can be contacted at FamilyBaggage.com.
Praise For Keep the Family Baggage Out of the Family Business: Avoiding the Seven Deadly Sins That Destroy Family Businesses…
"Will soon become the bible of family businesses." –Warren Bennis, author of Organizing Genius

"Speaking from personal experience, such practical, humorous and insightful wisdom should be required reading for ambitious family businesses." –Dr. Stephen R. Covey, author of The 7 Habits of Highly Effective People

"Insightful, must reading for anyone actively involved in a family business." –Curt W. Coffman, coauthor of First, Break All the Rules

"What do you do when the problem person at work is also your family member? This book provides the answers to that and many other questions, and should be required reading for anyone involved in a family business." –Ken Lloyd, Ph.D. author of Jerks at Work