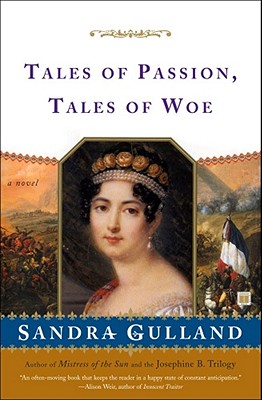 Tales of Passion, Tales of Woe (Paperback)
Atria Books, 9780684856070, 384pp.
Publication Date: November 16, 1999
Other Editions of This Title:
MP3 CD (2/6/2018)
* Individual store prices may vary.
Description
Tales of Passion, Tales of Woe is the much-awaited sequel to Sandra Gulland's highly acclaimed first novel, The Many Lives & Secret Sorrows of Josephine B.

Beginning in Paris in 1796, the saga continues as Josephine awakens to her new life as Mrs. Napoleon Bonaparte. Through her intimate diary entries and Napoleon's impassioned love letters, an astonishing portrait of an incredible woman emerges. Gulland transports us into the ballrooms and bedrooms of exquisite palaces and onto the blood-soaked fields of Napoleon's campaigns. As Napoleon marches to power, we witness, through Josephine, the political intrigues and personal betrayals -- both sexual and psychological -- that result in death, ruin, and victory for those closest to her.
About the Author
Sandra Gulland is the author of Mistress of the Sun; The Many Lives & Secret Sorrows of Josephine B.; Tales of Passion, Tales of Woe; and The Last Great Dance on Earth. She lives in Killaloe, Ontario, and San Miguel de Allende, Mexico.
Praise For Tales of Passion, Tales of Woe…
"It encompasses the political machinations and the battlefield encounters that made the Emperor famous, Josephine is always at the story's center, utterly devoted to a man who loves her passionately but will eventually prove to love power more."
— Anna Quindlen, author of Still Life with Bread Crumbs and
Alison Weir author of The Children of Henry VIII An often-moving book that keeps the reader in a happy state of constant anticipation.

Nancy Wigston The Toronto Star Sandra Gulland's second installment of her history of Josephine, Empress of France, is that rare phenomenon: a second novel even better than the first.

Faith Sullivan author of The Cape Ann Shrewd and engaging...moving, entertaining, conscientiously researched, and, yes, fun.

Diane Schoemperlen winner of the 1998 Governor General's Award for Fiction Utterly mesmerizing...a seamless blend of fact and fiction that moves historical fiction to a whole new level.

Merilyn Simonds Montreal Gazette Everything a reader could hope for and more...