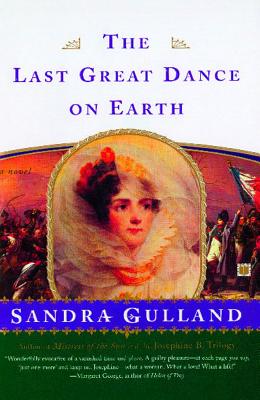 The Last Great Dance on Earth (Paperback)
Touchstone Books, 9780684856087, 384pp.
Publication Date: April 4, 2016
Description
The Last Great Dance on Earth is the triumphant final volume of Sandra Gulland's beloved trilogy based on the life of Josephine Bonaparte. When the novel opens, Josephine and Napoleon have been married for four tumultuous years. Napoleon is Josephine's great love, and she his. But their passionate union is troubled from within, as Josephine is unable to produce an heir, and from without, as England makes war against France and Napoleon's Corsican clan makes war against his wife. Through Josephine's heartfelt diary entries, we witness the personal betrayals and political intrigues that will finally drive them apart, culminating in Josephine's greatest tragedy: her divorce from Napoleon and his exile to Elba. The Last Great Dance on Earth is historical fiction on a grand scale and the stirring conclusion to an unforgettable love story.
Praise For The Last Great Dance on Earth…
Faith Sullivan
author of The Cape Ann

In all of time, no love story surpasses that of Napoleon and Josephine. The Last Great Dance on Earth draws us into the heart and soul of their story, capturing all the agony and glory.


Robin Maxwell
author of The Secret Diary of Anne Boleyn and The Queen's Bastard

Riveting....Never has this near-mythic figure seemed more human.




Margaret George
author of The Memoirs of Cleopatra: A Novel

Wonderfully evocative of a vanished time and place. A guilty pleasure -- at each page you say, "just one more" and keep on. Josephine -- what a woman. What a love! What a life!
Advertisement