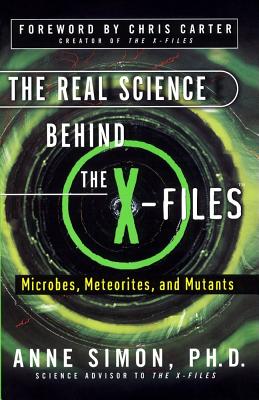 The Real Science Behind the X-Files
Microbes, Meteorites, and Mutants
Paperback

* Individual store prices may vary.
Description
Could an alien organism really survive a centuries-long trip on a meteor and remain virulent enough to attack a human being? How would a scientist know she was peering at a microbe from another planet? What's the possibility of a genetically mutated monster actually developing?
In a gripping exploration of the facts behind the science fiction that has enthralled millions of X-philes, Anne Simon -- the respected virologist who comes up with the science for many intriguing episodes -- discusses telomeres, cloning, the Hayflick limit, nanotechnology, endosymbionts, lentiviruses, and other strange phenomena that have challenged the intellect and threatened the lives and sanity of America's favorite FBI agents. With Simon's extraordinary gift for explaining complicated, cutting-edge science in a light, accessible style, and her behind-the-scenes commentary on the development of various plot lines, The Real Science Behind the X-Files will appeal to science buffs and X-Files aficionados alike.
Praise For The Real Science Behind the X-Files: Microbes, Meteorites, and Mutants…
Jerry A. Coyne The New York Times Book Review Simon manages to deliver a palatable and surprisingly large dose of information with each episode.

Nature An absorbing memoir for X-Files fans...Simon writes in a bright, breezy, and breakneck style, and manages to cram in an immense amount of detail about scientific research in a dazzling variety of areas.

Loy Volkman, Ph.D. University of California, Berkeley A fun book to read, witty and amazingly informative. Each reader is guaranteed to learn something.
Simon & Schuster, 9780684856186, 320pp.
Publication Date: October 9, 2001
About the Author
Anne Simon, Ph.D., is a professor in the department of Cell Biology and Molecular Genetics at the University of Maryland, College Park, and an editor of the international journal Virology. She lives in Bowie, Maryland.