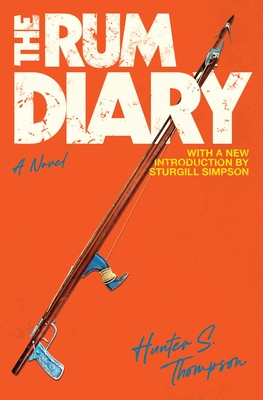 The Rum Diary
A Novel
Paperback

* Individual store prices may vary.
Other Editions of This Title:
Digital Audiobook (10/31/1998)
Digital Audiobook (10/24/2011)
Paperback (10/4/2011)
MP3 CD (1/1/2006)
Compact Disc (1/1/2006)
Description
Made into a major motion picture starring Johnny Depp, The Rum Diary—a national bestseller and New York Times Notable Book—is Hunter S. Thompson's brilliant love story of jealousy, treachery, and violent lust in the Caribbean.

Begun in 1959 by a twenty-two-year-old Hunter S. Thompson, The Rum Diary is a brilliantly tangled love story of jealousy, treachery, and violent alcoholic lust in the Caribbean boomtown that was San Juan, Puerto Rico, in the late 1950s. The narrator, freelance journalist Paul Kemp, irresistibly drawn to a sexy, mysterious woman, is soon thrust into a world where corruption and get-rich-quick schemes rule, and anything (including murder) is permissible. Exuberant and mad, youthful and energetic, this dazzling comedic romp provides a fictional excursion as riveting and outrageous as Thompson's Fear and Loathing books.
Praise For The Rum Diary: A Novel…
"Crackling, twisted, searing, paced to a deft prose rhythm . . . A shot of Gonzo with a rum chaser." —San Francisco Chronicle

"Enough booze to float a yacht and enough fear and loathing to sink it." —New York Daily News

"A great and an unexpected joy . . . Reveals a young Hunter Thompson brimming with talent." —The Philadelphia Inquirer

"At the core of this hard-drinking, hard-talking, hard-living man is a moralist, Puritan, even an innocent. The Rum Diary gives us this side of him without apology . . . with a kind of pride." —The Washington Post Book World

"A remarkably full and mature first novel . . . a languid and lovingly executed book that reveals its emotional depths slowly." —Salon

"Thompson flashes signs of the vitriol that would later be turned loose on society." —USA Today

"The tools Hunter S. Thompson would use in the years ahead-bizarre wit, mockery without end, redundant excess, supreme self-confidence, the narrative of the wounded meritorious ego, and the idiopathic anger of the righteous outlaw—were all there in his precocious imagination in San Juan. There, too were the beginnings of his future as a masterful prose stylist." —William Kennedy, Pulitzer Prize-winning author of Ironweed

"The Run Diary shows a side of human nature that is ugly and wrong. But it is a world that Hunter Thompson knows in the nerves of his neck. This is a brilliant tribal study and a bone in the throat of all decent people." —Jimmy Buffett
Simon & Schuster, 9780684856476, 224pp.
Publication Date: November 1, 1999
About the Author
Hunter S. Thompson was born and raised in Louisville, Kentucky. His books include Hell's Angels, Fear and Loathing at Rolling Stone, Fear and Loathing on the Campaign Trail '72, The Rum Diary, and Better than Sex. He died in February 2005.