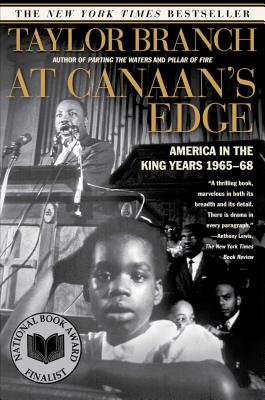 At Canaan's Edge
America in the King Years, 1965-68
Paperback

* Individual store prices may vary.
Other Editions of This Title:
Digital Audiobook (1/31/2006)
Hardcover (1/10/2006)
Description
At Canaan's Edge: America in the King Years, 1965-68 is the final volume in Taylor Branch's magnificent history of America in the years of the Civil Rights Movement and Vietnam War, recognized universally as the definitive account and ultimate recognition of Martin Luther King's heroic place in the nation's history.

The final volume of Taylor Branch's monumental, much honored, and definitive history of the Civil Rights Movement (America in the King Years), At Canaan's Edge covers the final years of King's struggle to hold his non-violent movement together in the face of factionalism within the Movement, hostility and harassment of the Johnson Administration, the country torn apart by Vietnam, and his own attempt (and failure) to take the Freedom Movement north.

At Canaan's Edge traces a seminal era in our defining national story, freedom. The narrative resumes in Selma, crucible of the voting rights struggle for black people across the South. The time is early 1965, when the modern Civil Rights Movement enters its second decade since the Supreme Court's Brown decision declared segregation by race a violation of the Constitution.

From Selma, King's non-violent Movement is under threat from competing forces inside and outside. Branch chronicles the dramatic voting rights drives in Mississippi and Alabama, Meredith's murder, the challenge to King from the Johnson Administration and the FBI and other enemies. When King tries to bring his Movement north (to Chicago), he falters. Finally we reach Memphis, the garbage strike, King's assassination.

Branch's magnificent trilogy makes clear why the Civil Rights Movement, and indeed King's leadership, are among the nation's enduring achievements.
Praise For At Canaan's Edge: America in the King Years, 1965-68…
"The crowning achievement of Branch's King trilogy is to show anew the moral power of [nonviolent] philosophy."

-- The Atlanta Journal-Constitution

"This is so far the best look at [the Sixties]. It is an essential tool for understanding what happened to and in America across that dizzying span of years."

-- Garry Wills, The New York Review of Books

"A magnificent account of witness and sacrifice."

-- John Leonard, Harper's Magazine

"A thrilling book, marvelous in both its breadth and its detail. There is drama in every paragraph."

-- Anthony Lewis, The New York Times Book Review

"Luminous...magisterial...At Canaan's Edge is a sweeping history of protest and politics, bursting with outsize figures."

-- Chicago Tribune
Simon & Schuster, 9780684857138, 1056pp.
Publication Date: January 9, 2007
About the Author
Taylor Branch is the bestselling author of Parting the Waters: America in the King Years, 1954-63; Pillar of Fire: America in the King Years, 1963-65; At Canaan's Edge: America in the King Years, 1965-1968; and The Clinton Tapes. He has won the Pulitzer Prize and the National Book Critics Circle Award.