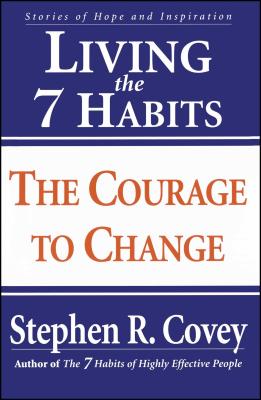 Living the 7 Habits (Paperback)
The Courage to Change
Free Press, 9780684857169, 336pp.
Publication Date: March 14, 2000
* Individual store prices may vary.
Description
"To live with change, to optimize change, you need principles that don't change." —Dr. Stephen R. Covey

Success that endures -- sustainable and balanced success -- can seem difficult to achieve in today's turbulent, complex world of change. But those who achieve this kind of success live by seven universal, timeless, self-evident principles that apply in any situation, in any culture.

In Living the 7 Habits: The Courage to Change, Dr. Covey shows how successful people have used these principles to solve problems, overcome obstacles, and change their lives. By showing how real people have used the principles to thrive in a changing world, he provides practical guidance and powerful inspiration to readers searching for a proven framework for living a meaningful life.
About the Author
Recognized as one of Time magazine's twenty-five most influential Americans, Stephen R. Covey (1932–2012) was an internationally respected leadership authority, family expert, teacher, organizational consultant, and author. His books have sold more than twenty-five million copies in thirty-eight languages, and The 7 Habits of Highly Effective People was named the #1 Most Influential Business Book of the Twentieth Century. After receiving an MBA from Harvard and a doctorate degree from Brigham Young University, he became the cofounder and vice chairman of FranklinCovey, a leading global training firm.
Praise For Living the 7 Habits: The Courage to Change…
Jack Canfield coauthor, New York Times #1 bestselling Chicken Soup for the Soul series Once again, Stephen Covey has found a way to touch the lives of every man, woman, and child. This book shares extraordinary stories from people who offer you a look into their extraordinary lives.

Richard Carlson, Ph.D. author of Don't Sweat the Small Stuff... and It's All Small Stuff This book touched my heart. It will bring to life and help you put into practice some of the most important lessons of being human. Without a doubt, this is another Covey masterpiece!

Larry King Whether you've read The 7 Habits or not, the stories in this book will change your life.