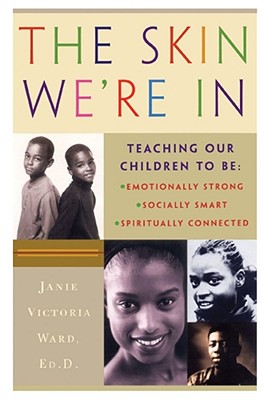 The Skin We're in (Paperback)
Teaching Our Teens to Be Emotionally Strong, Socially Smart, and Spiritually Connected
Free Press, 9780684859293, 304pp.
Publication Date: February 5, 2002
* Individual store prices may vary.
Description
Shepherding children through the demanding years of adolescence can be a struggle for any parent. But black parents must also help their children confront the psychological fallout of racism. With this in mind, Dr. Janie Ward, who spent fifteen years researching the moral and psychological development of African-American boys and girls, offers parents a comprehensive four-step program -- Name it, Read it, Oppose it, Replace it -- that provides strategies for healthy resistance to negative social influences and complacency in children throughout the formative years. Ward offers parents advice on such topics as:
Helping boys deal with and control emotions like anger, frustration, and fear
Encouraging girls to appreciate their growing bodies for more than just looks, and to develop a healthy sense of identity
Developing skills in teens that allow them to act effectively in social, academic, and business settings
Teaching children to resist the power of peer pressure from those in their communities who believe there is only one way to be black
Convincing teens that it is essential to develop their spirituality and participate in a spiritual community
About the Author
Janie Victoria Ward, Ed.D., is associate professor of education and human services at Simmons College in Boston, and coeditor with Carol Gilligan of Mapping the Moral Domain. She lives in Cambridge, Massachusetts, with her son
Praise For The Skin We're in: Teaching Our Teens to Be Emotionally Strong, Socially Smart, and Spiritually Connected…
Alvin F. Poussaint, M.D.
Harvard Medical School, and co-author of Raising Black Children

This insightful book is just what parents of black teenagers need...I highly recommend this book to parents and caregivers.


Ebony Bookshelf


An empowering guide for black parents.


Rocky Mountain News


The Skin We're In is unique, thoughtful, and intelligent, and should take its rightful place...on every black parent's bookshelf.


James Comer, M.D.
Yale Child Study Center, coauthor of Raising Black Children

Powerful and riveting! The reader is engaged on every page as Dr. Janie Victoria Ward tackles the tough issues associated with black child development in a complexsociety...Solid and eminently practical.