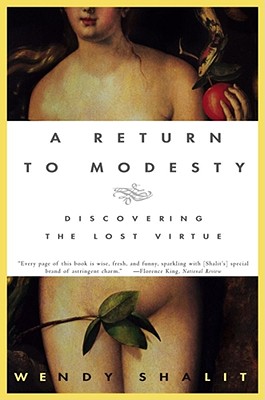 A Return to Modesty (Paperback)
Discovering the Lost Virtue
Free Press, 9780684863177, 304pp.
Publication Date: January 24, 2000
Other Editions of This Title:
Paperback (5/20/2014)
Hardcover (1/11/1999)
* Individual store prices may vary.
Description
Where once a young woman had to be ashamed of her sexual experience, today she is ashamed of her sexual inexperience. Where not long ago an unmarried woman was ashamed to give public evidence of sexual desire by living with someone, today she must be ashamed to give evidence of romantic desire. From sex education in grade school to coed bathrooms in college, today's young woman is being pressured relentlessly to overcome her embarrassment, her "hang-ups," and especially her romantic hopes.
Meanwhile, the problems young women struggle with grow steadily more extreme: from sexual harassment, stalking, and date rape to anorexia and self-mutilation. Both men and women endlessly lament the loss of privacy and of real intimacy. What is it all about?
Beholden neither to conservatives who discount as exaggeration the dangers facing young women, nor to feminists who steadfastly affix blame on the patriarchy, Wendy Shalit proposes that, in fact, we have lost our respect for an important classical virtue -- that of sexual modesty. A Return to Modesty is a deeply personal account as well as a fascinating intellectual exploration. From seventeenth-century manners guides to Antonio Canova's sculpture, Venus Italico, to Frank Loesser's 1948 tune, "Baby, It's Cold Outside," A Return to Modesty unfolds like a detective's search for a lost idea as Shalit uncovers opinions about this lost virtue's importance, from Balzac to Simone de Beauvoir, that have not been aired for decades. Then she knocks down the accompanying myths one by one. Female modesty is not about a "sexual double standard," as is often thought, but is related to male virtue and honor. Modesty is not a social construct, but a natural response. And modesty is not prudery, but a way to preserve a sense of the erotic in our lives.
With humor and piercing insight, Shalit invites us to look beyond the blush and consider the new power to be found in an old ideal. She maintains that the sex education curriculum forced on those of her generation from an early age is fundamentally flawed, centered as it is on overcoming reticence -- what we today call "hang-ups." Shalit surprisingly and persuasively argues that without these misnamed hang-ups there can be no true surrender, no richness and depth to relations between the sexes. The natural inclination toward modesty is not a hang-up that we should set out to cure, but rather a wonderful instinct that, if rediscovered and given the right social support, has the power to transform society.
About the Author
Wendy Shalit began to write A Return to Modesty as an undergrad at Williams College, where she received her BA in philosophy. She is also the author of The Good Girl Revolution and her essays on literary and cultural topics have appeared in The Wall Street Journal, The New York Times, and other publications. Now that she is the mother of three lively and opinionated children, she is more modest and humbled than ever before.
Praise For A Return to Modesty: Discovering the Lost Virtue…
George F. Will Newsweek [Shalit is] a prodigy at cracking the codes of culture....A Return to Modesty is a call for women to wield their potential power to transform society.

Florence King National Review A Return to Modesty is...so uncompromising in voice and stance that one is tempted to think of its author as Simone de Shalit or Wendy Wollstonecraft, but make no mistake: she imitates nothing and no one...Every page of this book [is] wise, fresh, and funny, sparkling with her special brand of astringent charm.

Tamala M. Edwards Time Her book has touched a nerve in a society overdosed on sex...Shalit defends...compellingly, shame, privacy, gallantry, and sexual reticence.

Ruth R. Wisse The Wall Street Journal Ms. Shalit marshals impressive evidence from philosophers as well as the tabloids to make her case for a return to modesty -- as both a sexual ideal and a strategy for greater pleasure...[a] serious yet bouncy study.

Emily Eakin The New York Times Book Review A Return to Modesty provides one invaluable service. There is a growing body of scholarly research on young adulthood that may, in the aftermath of Shalit's booming polemic, be more difficult to ignore.

Shari Roan Los Angeles Times The book of the moment...makes a compelling case for the idea that the sexual revolution hasn't been entirely good for either women or men...Social workers, health professionals and others who bemoan the loss of "boundaries" in the lives of troubled girls will find a hopeful message in the book.

Norah Vincent Salon The first book of its kind...to blaze down the center of the postfeminist battleground between left and right.

Katie Roiphe Harper's Bazaar Intriguing...[Shalit] writes about...how not going through with something can leave a deeper imprint on your imagination than going through with it, and how we have lost the playfulness and mystery of old-fashioned courtship.

Suzanne Fields The Washington Times [An] earnest and serious book....A fascinating subject [brought] to our attention in a fresh way.

Maggie Gallagher New York Post [An] important book that every thinking young woman (and her mother) should read.
or
Not Currently Available for Direct Purchase