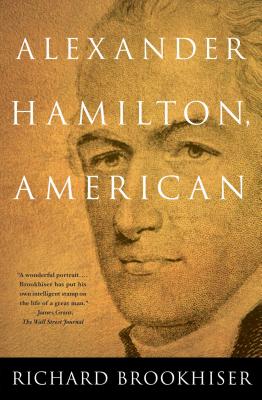 Alexander Hamilton, American
Paperback

* Individual store prices may vary.
Description
Alexander Hamilton is one of the least understood, most important, and most impassioned and inspiring of the founding fathers. At last Hamilton has found a modern biographer who can bring him to full-blooded life; Richard Brookhiser. In these pages, Alexander Hamilton sheds his skewed image as the bastard brat of a Scotch peddler, sex scandal survivor, and notoriously doomed dueling partner of Aaron Burr. Examined up close, throughout his meteoric and ever-fascinating (if tragically brief) life, Hamilton can at last be seen as one of the most crucial of the founders. Here, thanks to Brookhiser's accustomed wit and grace, this quintessential American lives again.
Praise For Alexander Hamilton, American…
James Grant
The Wall Street Journal

[A] wonderful portrait....Mr. Brookhiser has put his own intelligent stamp on the life of a great man.


Orlando Patterson
National Review

Richard Brookhiser's splendid biography...succeeds in doing what no other work has quite done before: provide a portrait of Hamilton that brings out the true genius of the man in a volume that is both elegantly written and accessible to a mass audience.


Gary H. Rawlins
USA Today

A pithy and entertaining biography....In this bold reinterpretive study that throws down the gauntlet to Jefferson's disciples, Brookhiser ably pleads Hamilton's case before the bar of history....The author's achievement is to capture the full nature of a great but flawed man.


Michael R. Beschloss
The New York Times Book Review

A dramatic, compact biography that fairly gallops through Hamilton's picaresque life. Alexander Hamilton, American brilliantly succeeds in arguing that Hamilton deserves greater credit than he usually gets for his brainpower, idealism, and vision.
Simon & Schuster, 9780684863313, 256pp.
Publication Date: April 12, 2000
About the Author
Richard Brookhiser is the author of Founding Father: Rediscovering George Washington and The Way of the WASP. He has also edited and annotated Washington's Rules of Civility. He is a Senior Editor at National Review and a New York Observer columnist. He lives in New York City.