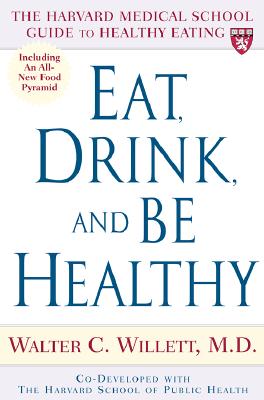 Eat, Drink, and Be Healthy
The Harvard Medical School Guide to Healthy Eating
Hardcover

* Individual store prices may vary.
Other Editions of This Title:
Paperback (9/19/2017)
Paperback (7/7/2005)
Paperback (7/1/2002)
Description
The U.S. Department of Agriculture Food Pyramid is one of the most recognizable icons in America today, seen everywhere from the backs of cereal boxes to elementary school displays to graduate school textbooks. Millions of Americans try to eat six to eleven servings of grains daily, three servings of milk or cheese, and so on. You may be one of them.
"Eat, Drink, and Be Healthy" tells you why the pyramid is wrong. Not merely wrong, but wildly wrong. And not just wildly wrong, but even dangerous. Most important, the book provides a new one in its place, a new food pyramid derived from decades of research by Harvard Medical School and Harvard's School of Public Health. In "Eat, Drink, and Be Healthy," Dr. Walter Willett, one of the world's most distinguished experts on nutrition, tells you why eggs are not the poison the public has been taught, and why some margarines are a lot worse than you thought. He tells you why the oil in a potato chip can be better for you than the potato, tells you what is good about nuts and bad about too much milk. Dr. Willett builds a general set of dietary guidelines that makes sense out of the welter of conflicting nutritional advice bombarding us daily -- not merely from the USDA, but from books and physicians preaching everything from banishing carbohydrates to ultra lowfat diets. He shows how none of this nutritional advice has prevented an epidemic of obesity in America today.
Based on research gleaned from the world-famous Nurses' Health Study, the Physicians' Health Study, and the Health Professionals Follow-up Study -- studies that tracked hundreds of thousands of people for more than twenty years -- and supported by dozens of other surveysand investigations, "Eat, Drink, and Be Healthy" offers eye-opening new research on the healthiest forms of carbohydrates, fats, and proteins, and the relative importance of various food groups and supplements. You'll learn why weight control is the single most important nutritional factor and what the three other critical factors of healthy eating are. You'll find out how to choose wisely between different types of fats, which combinations of fruits and vegetables provide the best health insurance, and how to integrate these into your daily diet. You'll even find specific advice for diabetics, people with hypertension, pregnant women, and nursing mothers. And all of it is translated into simple menu plans and more than fifty tasty recipes that make utilizing the new food pyramid a pleasure.
Unique and authoritative, "Eat, Drink, and Be Healthy" will teach everyone a new and fun way to eat.
Free Press, 9780684863375, 304pp.
Publication Date: July 1, 2001
or
Not Currently Available for Direct Purchase