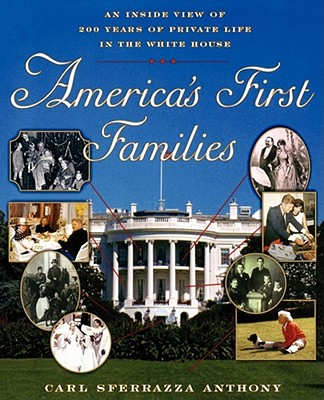 America's First Families
An Inside View of 200 Years of Private Life in the White House
Paperback

* Individual store prices may vary.
Description
Packed with more than 300 photographs from archives and private collections -- many published here for the first time -- entertaining anecdotes, political analysis, the dynamics of family relationships, and behind-the-scenes gossip, America's First Families offers the first up-close look at the families -- from John and Abigail Adams in 1800 to Bill and Hillary Clinton -- who have intrigued and entranced the American public for two centuries.
Carl Sferrazza Anthony opens the door to the world's most famous residence to reveal life as it was actually lived there. He takes readers into the heart of loyalties and estrangements, and the emotional pressures that politics brings to bear upon the forty White House families, from their arrivals to their "notices to vacate." Readers will enjoy an unprecedented tour of the previously unseen private rooms as used and decorated by each family. Revealed too are the personal proclivities of the presidents and how their families both sustained them through public crises and were used for political advantage. They'll get a firsthand look at the preparations for White House weddings and other occasions; meet the parents and children of the presidents -- as well as eccentric relatives; and discover the patterns of working, resting, and relaxing that shaped the nuts and bolts of family life.
A magnificent combination of visual delights and insider information, America's First Families is an irresistible invitation to spend some time at 1600 Pennsylvania Avenue.
Touchstone, 9780684864426, 416pp.
Publication Date: November 2, 2000
About the Author
Carl Sferrazza Anthony is the author of First Ladies, a two-volume history, Florence Harding, and As We Remember Her: Jacqueline Kennedy Onassis in the Words of Her Family and Friends. A speechwriter for Nancy Reagan who has also written extensively on Hillary Rodham Clinton, Anthony is the acknowledged authority on the political power and social influence of First Ladies. He has written for The Washington Post, The New York Times, the Los Angeles Times, and other publications. He lives in Washington, D.C.