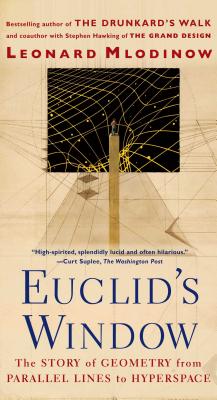 Euclid's Window
The Story of Geometry from Parallel Lines to Hyperspace
Paperback

* Individual store prices may vary.
Description
Through Euclid's Window Leonard Mlodinow brilliantly and delightfully leads us on a journey through five revolutions in geometry, from the Greek concept of parallel lines to the latest notions of hyperspace. Here is an altogether new, refreshing, alternative history of math revealing how simple questions anyone might ask about space -- in the living room or in some other galaxy -- have been the hidden engine of the highest achievements in science and technology.
Based on Mlodinow's extensive historical research; his studies alongside colleagues such as Richard Feynman and Kip Thorne; and interviews with leading physicists and mathematicians such as Murray Gell-Mann, Edward Witten, and Brian Greene, Euclid's Window is an extraordinary blend of rigorous, authoritative investigation and accessible, good-humored storytelling that makes a stunningly original argument asserting the primacy of geometry. For those who have looked through Euclid's Window, no space, no thing, and no time will ever be quite the same.
Praise For Euclid's Window: The Story of Geometry from Parallel Lines to Hyperspace…
Curt Suplee
The Washington Post

High-spirited, splendidly lucid and often hilarious.


Michael Guillen
author of Five Equations That Changed the World

How often can you say that a book on math -- on math! -- is a real page-turner? Well, this one is. As engaging as a soap opera, as fascinating as a whodunit, as funny as the Sunday comics, Mlodinow's book is storytelling at its best.


Brian Greene
author of The Elegant Universe

There is perhaps no better way to prepare for the scientific breakthroughs of tomorrow than to learn the language of geometry, and Euclid's Window makes this task lively and enjoyable.
Free Press, 9780684865249, 320pp.
Publication Date: April 9, 2002
About the Author
Leonard Mlodinow, Ph.D., was a member of the faculty of the California Institute of Technology before moving to Hollywood to become a writer for numerous television shows ranging from Star Trek: The Next Generation to Night Court. He has also developed many bestselling and award-winning educational CD-ROMs, and delivered technical and general lectures in ten countries. He is currently Vice President, Emerging Technologies and R&D, at Scholastic Inc. He lives in New York City.