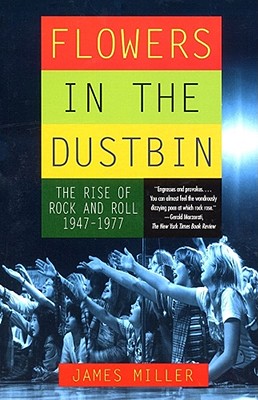 Flowers in the Dustbin (Paperback)
The Rise of Rock and Roll, 1947-1977
Touchstone, 9780684865607, 416pp.
Publication Date: September 19, 2000
* Individual store prices may vary.
Description
A prizewinning historian and journalist who has covered the pop music scene for more than three decades, James Miller brings a powerful and challenging intellectual perspective to his recounting of some key turning points in the history of rock. Arguing that the music underwent its full creative evolution in little more than twenty-five years, he traces its roots from the jump blues of the forties to the disc jockeys who broadcast the music in the early fifties. He shows how impresarios such as Alan Freed and movie directors such as Richard Brooks (of Blackboard Jungle) joined black music to white fantasies of romance and rebellion, and then mass-marketed the product to teenagers. He describes how rock matured as a form of music, from Chuck Berry and Elvis Presley to the Beatles, Bob Dylan, and Marvin Gaye, defining a decade of rebellious ferment. At the same time, he candidly recounts how trendsetting rock acts from Jim Morrison and the Doors in the late sixties to the Sex Pistols in the late seventies became ever more crude, outrageous, and ugly -- "as if to mark," writes Miller, "the triumph of the psychopathic adolescent."
Richly anecdotal and always provocative, Flowers in the Dustbin tells the story of rock and roll as it has never been told before.
About the Author
James Miller is professor of political science and director of liberal studies at the Graduate Faculty of the New School for Social Research. A Guggenheim Fellow and twice a winner of the ASCAP-Deems Taylor Award for excellence in writing about music, he has covered the rock scene for national publications since 1967, when one of his early record reviews appeared in the third issue of Rolling Stone magazine. Since then, his reviews, profiles, and essays on music have appeared in New Times, The New Republic, The New York Times, and Newsweek, where he was a book reviewer and pop music critic between 1981 and 1990. The original editor of The Rolling Stone Illustrated History of Rock & Roll (which first appeared in 1976), he also contributed an essay on his favorite rock album, Presenting the Fabulous Ronettes (1964), to an anthology edited by Greil Marcus, Stranded: Rock and Roll for a Desert Island (1979). He is the author of four previous books: The Passion of Michel Foucault (1993), an interpretive essay on the life of the French philosopher, a National Book Critics Circle Finalist for General Nonfiction; "Democracy Is in the Streets": From Port Huron to the Siege of Chicago (1987), an account of the American student movement of the 1960s, also a National Book Critics Circle Finalist for General Nonfiction; Rousseau: Dreamer of Democracy (1984), a study of the origins of modern democracy; and History and Human Existence -- From Marx to Merleau-Ponty (1979), an analysis of Marx and the French existentialists. A native of Chicago educated at Pomona College and Brandeis University, where he received a Ph.D. in the History of Ideas, he lives with his wife and three sons in West Roxbury, Massachusetts.
Praise For Flowers in the Dustbin: The Rise of Rock and Roll, 1947-1977…
Gerald Marzorati The New York Times Book Review Engrosses and provokes....You can almost feel the wondrously dizzying pace at which rock rose.

Tom Carson The Washington Post Miller is both an astute writer and a serious cultural historian, packing each of his nuggetlike chapters with insightful analysis and absorbing musical and sociological lore as well as vivid, shrewdly chosen detail.

Ken Tucker Entertainment Weekly Does the world really need another history of rock and roll? It does when it's as insightful and energetic as Flowers in the Dustbin....Grade: A.

Joshua Clover Spin James Miller cross-fades academic chops and musical passions in dazzling combination....A work that seems deservedly destined for the canon itself.

Michael Pakenham The Sun (Baltimore) If you have never understood rock and roll -- never quite got it -- read this book and you will know.

Tom Engelhardt The Philadelphia Inquirer A fabulous, can't-miss tale of simple musical pleasures and outsized gratifications....A review can only hint at its richness and breadth....Let James Miller spin his 45s while you search your own memory; then argue back or just dance a few steps in the silence of your room.

Jon Pareles The New York Times Mr. Miller's new book is an observant, meticulously researched survey of rock's first decades....He writes with loving precision.

Geoffrey O'Brien The New York Review of Books Efficient, compact...movielike....Miller is unmistakably one who tasted fully the string of conversion experiences that once made rock and roll so exciting.

Joan Anderman The Boston Globe Into this engaging tapestry of musical lore Miller expertly weaves cultural and intellectual strands....Miller distills that essence, as much with exhaustive and ingenious synthesis of source material as with plain old good storytelling.

Jonathan Levi Los Angeles Times Book Review An intelligent, unhysterical account of the Rise and Fall of the Rock "n" Roll Empire. Miller reminds us that rock -- no matter its deluge of sales -- is not a single, mighty river charging through the heartland of the country but a veritable tangle of streams.