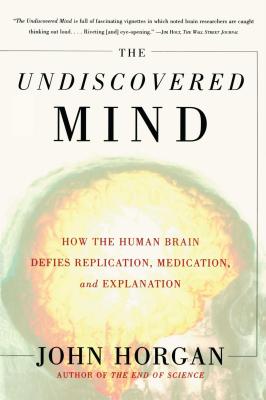 The Undiscovered Mind (Paperback)
How the Human Brain Defies Replication, Medication, and Explanation
Free Press, 9780684865782, 336pp.
Publication Date: November 14, 2000
* Individual store prices may vary.
Description
GRAY MATTER UNDER INVESTIGATION In his acclaimed book The End of Science, John Horgan ignited a firestorm of controversy about the limits of knowledge in a wide range of sciences. Now in The Undiscovered Mind he focuses on the single most important scientific enterprise of all -- the effort to understand the human mind.
Horgan takes us inside laboratories, hospitals, and universities to meet neuro-scientists, Freudian analysts, electroshock therapists, behavioral geneticists, evolutionary psychologists, artificial intelligence engineers, and philosophers of consciousness. He looks into the persistent explanatory gap between mind and body that Socrates pondered and shows that it has not been bridged. He investigates what he calls the "Humpty Dumpty dilemma," the fact that neuroscientists can break the brain and mind into pieces but cannot put the pieces back together again. He presents evidence that the placebo effect is the primary ingredient of psychotherapy, Prozac, and other treatments for mental disorders. As Horgan shows, the mystery of human consciousness, of why and how we think, remains so impregnable that to expect the attempts of scientific method and technology to penetrate it anytime soon is absurd.
About the Author
John Horgan is the author of The End of Science, a U.S. bestseller that has been translated into ten languages. He has written for The New York Times, The Washington Post, The Times (London), The New Republic, Lingua Franca, Slate, The Sciences, and Discover, among other publications in the United States and Europe. He lives in Garrison, New York.
Praise For The Undiscovered Mind: How the Human Brain Defies Replication, Medication, and Explanation…
Jim Holt
The Wall Street Journal

The Undiscovered Mind is full of fascinating vignettes in which noted brain researchers are caught thinking out loud....Riveting [and] eye-opening.


Walter A. Brown
Clinical Professor of Psychiatry, Brown University School of Medicine and Tufts University School of Medicine

John Horgan has done it again. In this rich, irreverent, thorough, and entertaining tour of mind-science, Horgan makes complicated lines of research accessible and compelling.


Abraham Verghese
Chicago Tribune

Compelling....The Undiscovered Mind is a well-researched and important book.
or
Not Currently Available for Direct Purchase