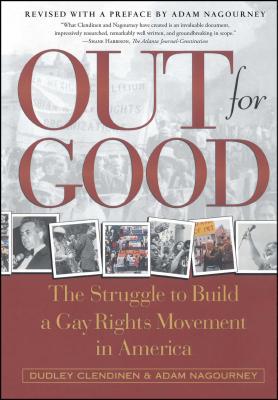 Out for Good (Paperback)
The Struggle to Build a Gay Rights Movement in America
Simon & Schuster, 9780684867434, 720pp.
Publication Date: June 5, 2001
* Individual store prices may vary.
Description
With a New Preface Written in 2016 by Adam Nagourney This is the definitive account of the last great struggle for equal rights in the twentieth century. From the birth of the modern gay rights movement in 1969, at the Stonewall riots in New York, through 1988, when the gay rights movement was eclipsed by the more urgent demands of AIDS activists, this is the remarkable and until now untold story of how a largely invisible population of men and women banded together to create their place in America's culture and government. Told through the voices of gay activists and their opponents, filled with dozens of colorful characters, Out for Good traces the emergence of gay rights movements in cities across the country and their transformation into a national force that changed the face of America forever. Out for Good is the unforgettable chronicle of an important--and nearly lost--chapter in American history.
About the Author
Dudley Clendinen has been a national correspondent and editorial writer for "The New York Times." He is the editor of a book of essays, "The Prevailing South, " and the author of the text of a book of photographs, "Homeless in America." He lives in Baltimore, Maryland.
Praise For Out for Good: The Struggle to Build a Gay Rights Movement in America…
Shane Harrison
The Atlanta Journal-Constitution

What Clendinen and Nagourney have created is an invaluable document, impressively researched, remarkably well written, and groundbreaking in scope.


Doris Kearns Goodwin


Out for Good is the monumental story, told with exquisite writing, vivid detail, and a grand narrative sweep, of one of the most important movements of the twentieth century.


Doug Ireland
The Philadelphia Inquirer

Clendinen and Nagourney have performed a valuable service for all of those who weren't around during most of the thirty years of painful but joyous struggle.


Jonathan Rauch
Los Angeles Times Book Review

The story...is told with political acumen, reportorial vividness, and narrative flair. [Out for Good] is a remarkable accomplishment.