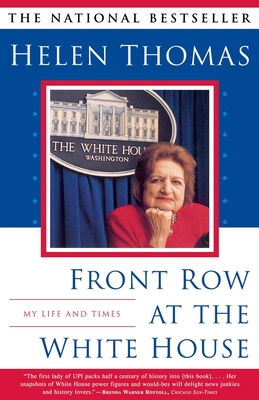 Front Row at the White House (Paperback)
My Life and Times
Scribner, 9780684868097, 416pp.
Publication Date: May 3, 2000
* Individual store prices may vary.
Description
"Thank You, Mr. President."
From the woman who has reported on every president from Kennedy to Clinton comes a privileged glimpse into the White House -- and a telling record of the ever-changing relationship between the presidency and the press.
Helen Thomas wanted to be a reporter from her earliest years. She turned a copy-aide job at the Washington Daily News into a powerful and successful career spanning thirty-seven years and eight U.S. presidents. Assigned to the White House press corps in 1961. Thomas was the first woman to close a press conference with "Thank you. Mr. President." She was also the first female president of the White House Correspondents Association and the first woman member, later president, of the Gridiron Club.
In this revealing memoir, which includes hundreds of anecdotes, observations, and personal details. Thomas looks back on a career spent with presidents at home and abroad, on the ground and in the air. Providing a unique view of the past four decades of presidential history. Front Row at the White House offers a seasoned study of the relationship between the chief executive officer and the press -- a relationship that is sometimes uneasy, sometimes playful, yet always integral to the democratic process.
About the Author
Helen Thomas is the dean of the White House press corps. The recipient of more than forty honorary degrees, she was honored in 1998 with the inaugural Helen Thomas Lifetime Achievement Award, established by the White House Correspondents' Association. The author of Thanks for the Memories, Mr. President; Front Row at the White House; and Dateline: White House, she lives in Washington, D.C., where she writes a syndicated column for Hearst.
Praise For Front Row at the White House: My Life and Times…
Brenda Warner Rotzoll Chicago Sun-Times The first lady of UPI packs half a century of history into [this book]....Her snapshots of White House power figures and would-bes will delight news junkies and history lovers.

Dan Rather CBS News Helen Thomas is not only one of the smartest and savviest Washington reporters ever, she's also one of the most admired, and this book tells you why....She's got a wise, caring heart and a truckload of funny and touching recollections to share.

Larry King USA Today Wonderful....Front Row at the White House is a terrific read.

Cokie Roberts ABC News Helen Thomas's account of her days as a reporter, the people she's covered, the history she's witnessed, of course makes a fascinating read.