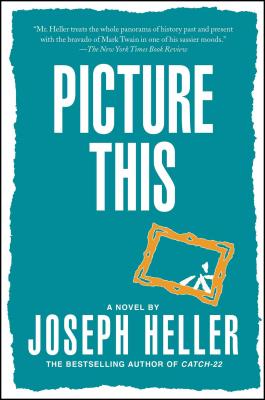 Picture This (Paperback)
Simon & Schuster, 9780684868196, 352pp.
Publication Date: March 24, 2000
Description
Picture this: Rembrandt is creating his famous painting of Aristotle contemplating the bust of Homer. As soon as he paints an ear on Aristotle, Aristotle can hear. When he paints an eye, Aristotle can see. And what Aristotle sees and hears and remembers from the ancient past to this very moment provides the foundation for this lighthearted, freewheeling jaunt through 2,500 years of Western Civilization.
Picture This is an incisive fantasy that digs deeply into our illusions and customs. Nobody but Joseph Heller could have thought of a novel like this one. Nobody but Heller could have executed it so brilliantly.
Praise For Picture This…
The New York Times Book Review


Mr. Heller treats the whole panorama of history past and present with the bravado of Mark Twain in one of his sassier moods.


Doris Lessing


I think Picture This is brilliant. It has the astringency and wit of Catch-22, matured.


San Francisco Chronicle


The author of the outrageous classic Catch-22 once again comments on all of society and history with this whirlwind tour through the minds of Aristotle and Rembrandt. Their vastly different worlds are not so very different from each other, or for that matter, from our own world. History as told by Heller is so comic and heartbreaking that you wonder why anyone would want to live there.


Chicago Sun-Times


Ingenious -- another new kind of novel: intelligent and written with grace....A fiction to appreciate and ponder.


Vogue


Pure renegade Heller -- at best, as sharp (and thoroughly American) as Lizzie Borden's axe.


Rita Mae Brown


Chimerical, political, and funny, Picture This is a novel with fangs....His flashiest since Catch-22.
Advertisement