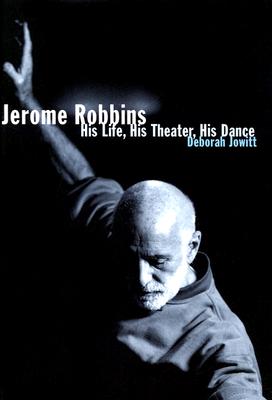 Jerome Robbins: His Life, His Theater, His Dance (Hardcover)
His Life, His Theater, His Dance
Simon & Schuster, 9780684869858, 640pp.
Publication Date: August 3, 2004
* Individual store prices may vary.
or
Not Currently Available for Direct Purchase
Description
In this authoritative biography, Deborah Jowitt explores the life, works, and creative processes of the complex genius Jerome Robbins (1918-1998), who redefined the role of dance in musical theater and is also considered America's greatest native-born ballet choreographer.
Granted unrestricted access to an enormous archive of personal and professional papers that included journals, correspondence, sketches, photographs, production notes, contracts, and more, Jowitt also interviewed more than one hundred performers and others who had collaborated with Robbins. Her book gives insights into his lively curiosity, his volatile temperament, and his constant striving for perfection, revealing not just how others saw him, but -- through the thoughts, feelings, and passionate outbursts he put down on paper over the course of almost eight decades -- how he saw himself.
His career was closely tied to the development of both ballet and musical comedy in America. The only son of Russian Jewish immigrants, he began as a modern dancer and Broadway chorus boy. He joined Ballet Theatre shortly after its founding in 1940 and the New York City Ballet when it first became known by that name in 1948; his choreography, beginning with the smash hit "Fancy Free" in 1944, contributed to the emerging profile of both companies. He created ingenious numbers for lighthearted musicals like "On the Town" and "High Button Shoes," but his imprint on "West Side Story" and later on "Fiddler on the Roof" helped lift the Broadway musical to a level in which dancing illuminated character and plot.
Jowitt recounts how this richly creative life in the theater and out of it was shaped by Robbins's affairs with bothmen and women, his close friendships with other major artists ranging from Robert Graves to Robert Wilson, and the political and artistic climate of the times he lived in. Her investigation of his career includes the brief existence (1958-1961) of his own immensely successful company, Ballets: U.S.A.; his travails "doctoring" such musicals as "Funny Girl" and "A Funny Thing Happened on the Way to the Forum; " his more experimental work directing plays during the 1960s; his attempt in the aborted "Poppa Piece" to come to terms with his Jewish heritage and his appearance before the House Committee on Un-American Activities; and the final glorious period beginning in 1969, when he returned to the New York City Ballet to work again beside the man he considered a mentor, George Balanchine.
This meticulously researched and elegantly written story of a life's work is illuminated by photographs, enlivened by anecdotes, and grounded in insights into ballets and musical comedies that have been seen and loved all over the world.
Advertisement