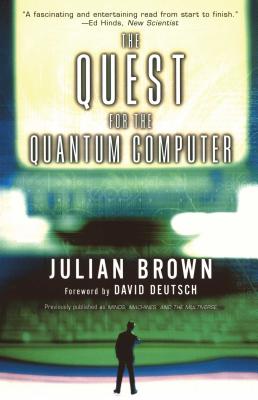 Quest for the Quantum Computer (Paperback)
Simon & Schuster, 9780684870045, 400pp.
Publication Date: August 14, 2001
* Individual store prices may vary.
Description
Taking readers to the cutting edge of physics, mathematics, and computer science, Julian Brown tells the dramatic story of the groundbreaking efforts to create a fundamentally new kind of computer that would be astronomically more powerful than today's machines. In 1998, a team of researchers announced they had produced the world's first quantum computer in a cup of chloroform. In fascinating, fully accessible detail, Brown explains the ideas that led up to this accomplishment and explores the mind-stretching implications of this leap into the bizarre world of quantum physics. The Quest for the Quantum Computer is a riveting look at what promises to be one of the most important scientific and technological ideas of the twenty-first century.
About the Author
Julian Brown is a science journalist who specializes in physics and computers. He has written extensively about quantum physics for New Scientist magazine, and is the coeditor of The Ghost in the Atom and Superstrings: A Theory of Everything? He lives in San Francisco, California.
Praise For Quest for the Quantum Computer…
Ed Hinds
New Scientist

A fascinating and entertaining read from start to finish.


Paul Davies
author of The Fifth Miracle

A masterful piece of scientific exposition.


Lynn Yarris
San Jose Mercury News

Exciting and educational...a road map for the future.