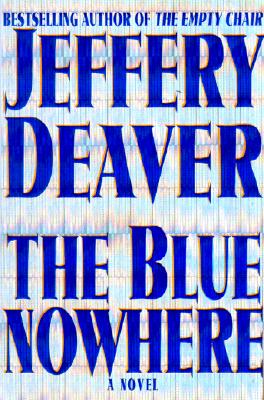 The Blue Nowhere (Hardcover)
Simon & Schuster, 9780684871271, 432pp.
Publication Date: May 1, 2001
Other Editions of This Title:
Digital Audiobook (1/2/2012)
Digital Audiobook (4/30/2001)
Paperback, Large Print (9/28/2001)
Mass Market (3/1/2002)
Mass Market (6/28/2016)
* Individual store prices may vary.
Description
"The Blue Nowhere" will forever change the way you feel about your computer.
Jeffery Deaver, bestselling author of "The Empty Chair" and "The Bone Collector," now turns to the labyrinthine world of cyberspace -- a world where safety is elusive, appearances are deceiving, and the most powerful can lose their wealth, their minds, their lives with a hacker's touch of a button.
When a sadistic hacker, code-named Phate, sets his sights on Silicon Valley, his victims never know what hit them. He infiltrates their computers, invades their lives, and -- with chilling precision -- lures them to their deaths. To Phate, each murder is like a big, challenging computer hack: every time he succeeds, he must challenge himself anew -- by taking his methodology to a higher level, with bigger targets.
Desperate, the head of The California State Police Computer Crimes Division frees Wyatt Gillette, imprisoned for hacking, to aid the investigation -- against the loud protests of the rest of the division. With an obsession emblematic of hackers, Gillette fervently attempts to trace Phate's insidious computer virus back to its source. Then Phate delivers a huge blow, murdering one of the division's own -- a "wizard" who had pioneered the internet -- and the search takes on a zealous intensity. Gillette and Detective Frank Bishop, an old-school homicide cop who's accustomed to forensic sleuthing, at first make an uneasy team. But with a merciless and brilliant killer like Phate in their crosshairs, and his twisted game reaching a fever pitch, they must utilize every ounce of their disparate talents to stop him.
Hot on the trail of the "New York Times" bestseller "The Empty Chair, The BlueNowhere" once again demonstrates that Deaver is "the master of ticking-bomb suspense" "(People)." It is a truly stunning tale of suspense in the computer age.

or
Not Currently Available for Direct Purchase