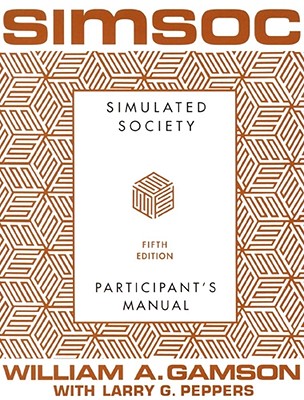 SIMSOC (Paperback)
Simulated Society, Participant's Manual: Fifth Edition (Participant's Manual)
Free Press, 9780684871400, 188pp.
Publication Date: July 24, 2000
* Individual store prices may vary.
Description
The official guide to SIMSOC, the dynamic group simulation game whose "potential for stimulating the learning process is staggering" (Teaching Sociology), in which players grapple with the challenge of governing society.

In SIMSOC, players confront issues like abuse of power, justice, diversity, trust, and leadership as they negotiate their way through labor-management strife, political turmoil, and natural disasters. Success or failure is dependent upon decisions made by players and the creativity of the group—and every game is a teaching tool.

To be successful, players must utilize every basic social process from cooperation and reward to threat and punishment. SIMSOC will make participants ask questions about social control, and bring everyday experience and deeper understanding to even the most arcane social and organizational theory.

Included in this Fifth Edition of SIMSOC's Participant's Manual are instructions for playing, materials for play, study questions based on participation, and selected readings about simulation games, leadership, and social processes. New to the Fifth Edition are additional size levels to accommodate groups of up to ninety participants with simplified rules and readings by authors from Nicholas Lemann to Robert Putnam.
About the Author
William A. Gamson, the former President of the American Sociological Association, is also a former Guggenheim Fellow and Professor in Boston College's Sociology Department. He is the creator of SIMSOC and author of Talking Politics, The Strategy of Social Protest, and Power and Discontent, among other books.
Praise For SIMSOC: Simulated Society, Participant's Manual: Fifth Edition (Participant's Manual)…
Teaching Sociology [SIMSOC's] potential for stimulating the learning process is staggering....It continues to attract devotes. The options for personal modification and innovation are there. The applicability to various course orientations and subtopics is limitless...