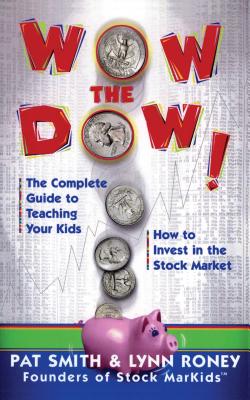 Wow The Dow!
The Complete Guide To Teaching Your Kids How To Invest In The Stock Market
Paperback

* Individual store prices may vary.
Description
A FAMILY THAT LEARNS TOGETHER EARNS TOGETHER!
Whether you're a novice stockholder or a seasoned investor, you can teach the next generation of stockholders how to invest successfully. Creative, practical, and full of savvy financial advice,
Wow the Dow!
is a family-oriented guide to the workings of Wall Street that shows parents how to start investing in the stock market with their children and encourages kids to think intelligently about money.
Cofounders of Stock MarKids,™ the nationally affiliated parent-child investment club, Lynn Roney and Pat Smith explain the important aspects of the stock market and provide parents with easy-to-follow advice for introducing the exciting world of finance. Complete with games, exercises, and real-life profiles of successful child investors,
Wow the Dow!
covers:
The basic concepts behind investing

Teaching your children how to read stock quotes and understand business news

Building an appropriate portfolio with stocks your kids will pick

Creating strategies for making investing fun and profitable

Where to go online for stock games, investment sites, and financial resources

The advantages of joining an investment club

With its commitment to educating kids and encouraging them to find new and creative ways to invest,
Wow the Dow!
is a must-have handbook for every parent.
Touchstone, 9780684871493, 288pp.
Publication Date: September 19, 2000
About the Author
Lynn Roney began investing at the age of twenty-seven, after she taught herself the tools of the trade by reading The Wall Street Journal and attending investment seminars. Roney holds a bachelor's degree in business management from Southeastern University and is working toward her MBA at the University of the District of Columbia. She lives in Washington, D.C.