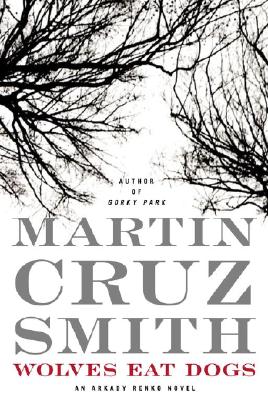 Wolves Eat Dogs
Hardcover

* Individual store prices may vary.
Other Editions of This Title:
Digital Audiobook (1/3/2011)
Digital Audiobook (11/15/2004)
Paperback (1/3/2006)
Paperback (9/12/2013)
Description
Arkady Renko returns for his most enigmatic and baffling case:
the death of one of Russia's new billionaires, which leads him to the Zone of Exclusion -- Chernobyl, and the surrounding areas closed to the world since the nuclear disaster of 1986.
In his groundbreaking "Gorky Park," Martin Cruz Smith created one of the iconic detectives of contemporary fiction, Arkady Renko. Cynical, quietly subversive, brilliantly analytical and haunted by melancholy, Renko has survived, barely, the journey from the Soviet Union to the New Russia, only to find his transformed nation just as obsessed with secrecy, corruption and brutality as was the old Communist dictatorship.
In "Wolves Eat Dogs," Renko enters the privileged world of Russia's new billionaire class. The grandest of them all, a self-made powerhouse named Pasha Ivanov, has apparently leapt to his death from the palatial splendor of his posh, ultra-modern Moscow condominium. While there are no signs pointing to homicide, there is one troubling and puzzling bit of evidence: in Ivanov's bedroom closet, there's a mountain of salt.
Ivanov's demise ultimately leads Renko to Chernobyl and its environs. (No one knows how many deaths resulted from the explosion in Reactor Number 4. The official government figure is just 41, though many experts estimate that the toll was really a half million or more.) It is a ghostly world, still aglow with radioactivity, now inhabited only by the militia, shady scavengers, a few reckless scientists, and some elderly Ukrainian peasants who would rather ignore the Geiger counters than relocate. Renko's journey to this netherworld, the crimes he uncovers there and the secrets they reveal about the NewRussia, make for a tense, unforgettable page-turning adventure.
Each of Martin Cruz Smith's novels is a ticket to an unknown world. "Wolves Eat Dogs" is Smith's most harrowing trip yet.
Simon & Schuster, 9780684872544, 352pp.
Publication Date: November 16, 2004
or
Not Currently Available for Direct Purchase