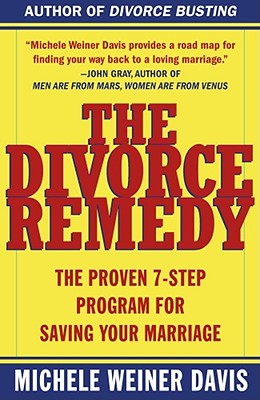 The Divorce Remedy (Paperback)
The Proven 7-Step Program for Saving Your Marriage
Simon & Schuster, 9780684873251, 320pp.
Publication Date: September 4, 2002
* Individual store prices may vary.
Description
Michele Weiner-Davis offers an empowering and encouraging guide for revitalizing marriage and building stronger, more loving bonds.

Michele Weiner-Davis goes beyond her marriage-saving bestseller, Divorce Busting, with this empowering and encouraging guide for revitalizing marriage and building stronger, more loving bonds. In a down-to-earth style that is free of psychobabble, Weiner-Davis outlines a realistic, solution-oriented seven-step program for managing marital problems, which, when left unchecked, can drain the life out of a relationship. Using revealing anecdotes and in-depth case studies, she illustrates practical ways for marriage partners to

-avoid the "divorce trap"
-identify specific marriage-saving goals
-move beyond ineffective, hurtful ways of interacting
-become an expert on "doing what works"
-overcome infidelity, Internet obsessions, depression, sexual problems, and midlife crises
-get your marriage back on track—and keep it there

Rescue your marriage with the proven techniques of The Divorce Remedy—sound, sensible advice from a renowned relationship expert!
About the Author
Michele Weiner-Davis, MSW, is an internationally renowned relationship expert and author of several books including The Divorce Remedy, the bestselling Divorce Busting, A Woman's Guide to Changing Her Man, Change Your Life and Everyone in It, and In Search of Solutions. She has appeared as a regular guest on Oprah, 48 Hours, The Today Show, CBS This Morning, and taped a seminar on PBS entitled Keeping Love Alive. A therapist in private practice specializing in Solution-Oriented Brief Therapy, her highly-acclaimed workshops have earned her national recognition. She lives in Illinois with her husband of over thirty years.
Praise For The Divorce Remedy: The Proven 7-Step Program for Saving Your Marriage…
John Gray author of Men are from Mars, Women are from Venus Weiner Davis provides a road map for finding your way back to a loving marriage.

Pat Love author of The Truth about Love Poignant, powerful, practical, full of hope. Michele Weiner Davis lives up to her reputation as one of the foremost marriage educators of our culture.