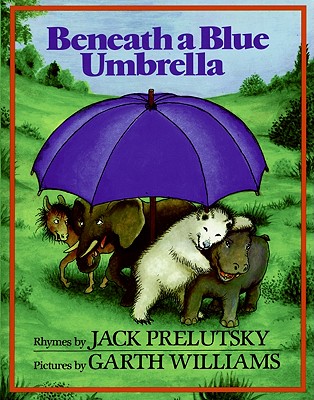 Beneath a Blue Umbrella (Hardcover)
Greenwillow Books, 9780688064297, 64pp.
Publication Date: April 27, 1990
* Individual store prices may vary.
Description
From the puppies in Philadelphia to the piglets in Wichita, west to the Great Salt Lake (where the big green frog lives), and south to the Mardi Gras celebration -- here are poems and pictures for everyone to love. Ride a Purple Pelican confirmed Jack Prelutsky and Garth Williams's place in the hearts (and on the tongues) of young Americans. And Beneath a Blue Umbrella is a worthy successor. Here is a book for adults to share with children -- and for children to share with adults and with each other.
About the Author
Jack Prelutsky is the best-selling author of more than fifty books of poetry, including The New Kid on the Block, illustrated by James Stevenson, and Stardines Swim High Across the Sky, illustrated by Carin Berger. Jack Prelutsky lives in Washington State.
Garth Williams is the renowned illustrator of almost one hundred books for children, including the beloved Stuart Little by E. B. White, Bedtime for Frances by Russell Hoban, and the Little House series by Laura Ingalls Wilder.
He was born in 1912 in New York City but raised in England. He founded an art school near London and served with the British Red Cross Civilian Defense during World War II. Williams worked as a portrait sculptor, art director, and magazine artist before doing his first book Stuart Little, thus beginning a long and lustrous career illustrating some of the best known children's books.
In addition to illustrating works by White and Wilder, he also illustrated George Selden's The Cricket in Times Square and its sequels (Farrar Straus Giroux). He created the character and pictures for the first book in the Frances series by Russell Hoban (HarperCollins) and the first books in the Miss Bianca series by Margery Sharp (Little, Brown). He collaborated with Margaret Wise Brown on her Little Golden Books titles Home for a Bunny and Little Fur Family, among others, and with Jack Prelutsky on two poetry collections published by Greenwillow: Ride a Purple Pelican and Beneath a Blue Umbrella. He also wrote and illustrated seven books on his own, including Baby Farm Animals (Little Golden Books) and The Rabbits' Wedding (HarperCollins).
or
Not Currently Available for Direct Purchase