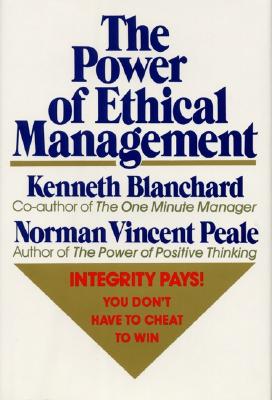 The Power of Ethical Management
Hardcover

* Individual store prices may vary.
Description
Ethics in business is the most urgent problem facing America today. Now two of the best-selling authors of our time, Kenneth Blanchard and Norman Vincent Peale, join forces to meet this crisis head-on in this vitally important new book. The Power of Ethical Management proves you don't have to cheat to win. It shows today's managers how to bring integrity back to the workplace. It gives hard-hitting, practical, ethical strategies that build profits, productivity, and long-term success.
From a straightforward three-step Ethics Check that helps you evaluate any action or decision, to the "Five P's" of ethical behavior that will clarify your purpose and your goals, The Power of Ethical Management gives you an immensely useful set of tools. These can be put to work right away to enhance the performance of your business and to enrich the quality of your life. The Power of Ethical Management is no theoretical treatise; Peale and Blanchard speak from their own enormous and unique experience, They reveal the nuts and bolts, practical strategies for ethical decisions that will show you why integrity pays.
William Morrow, 9780688070625, 144pp.
Publication Date: February 11, 1988
About the Author
Dr. Norman Vincent Peale was one of America's most influential spiratual leaders, from the publication of
The Power of Positive Thinking
in 1952 until his death in 1993. A personal adviser to Presidents Eisenhower and Nixon, he also inspired millions with more than forty books, as well as radio and television broadcasts.
Ken Blanchard, PhD, is one of the most influential leadership experts in the world. He has co-authored 60 books, including Raving Fans and Gung Ho! (with Sheldon Bowles). His groundbreaking works have been translated into over 40 languages and their combined sales total more than 21 million copies. In 2005 he was inducted into Amazon's Hall of Fame as one of the top 25 bestselling authors of all time. The recipient of numerous leadership awards and honors, he is cofounder with his wife, Margie, of The Ken Blanchard Companies®, a leading international training and consulting firm.
or
Not Currently Available for Direct Purchase