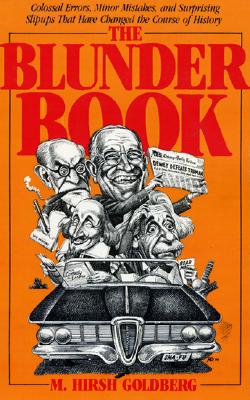 Blunder Book (Paperback)
Gigantic
William Morrow Paperbacks, 9780688077570, 276pp.
Publication Date: February 25, 1988
* Individual store prices may vary.
Description
The Blunder Book: Colossal Errors, Minor Mistakes, and Surprising Slipups that have changed the course of history.
The pantheon of error making is large and always growing. History is replete with notables who have made serious mistakes, who have every right to hide their red faces from the limelight: people like Columbus, Gutenburg, Washington, Einstein. All of them -- and many others -- have had to overcome the errors of their ways to make their marks in the world.
This book presents the many ways in which error has become ingrained in our government, science, medicine, and the arts, how error has changed history, crept into our libraries, altered our thoughts, and affected out daily existence.
About the Author
M. Hirsh Goldberg has been press secretary for the governor of Maryland and the mayor of Baltimore, a speech writer for two of Maryland's attorneys general, and author of two previous books. He is executive vice-president and partner of Jordan-Azam, Inc., a Maryland-based public-relations and advertising agency. Mr. Goldberg lectures widely and lives in Baltimore with his wife, Barbara, and family.
or
Not Currently Available for Direct Purchase