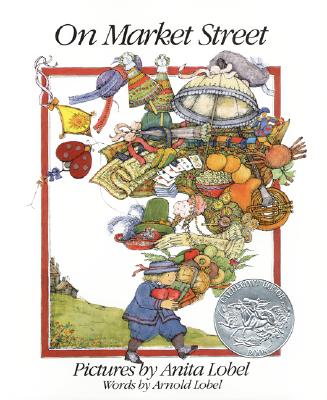 On Market Street (Paperback)
Greenwillow Books, 9780688087456, 40pp.
Publication Date: February 7, 2006
Description
Have you ever seen a man dressed entirely in playing cards? Or a girl wearing a lollipop dress? Then take a stroll through a most unusual market in this Caldecott Honor Book created by Anita Lobel and Arnold Lobel.
Here is a world of wonders, from A to Z. Inspired by seventeenth-century French trade engravings, Anita Lobel's brilliant paintings of the shopkeepers on Market Street--each composed of his or her wares--will provide blissful hours for all who join the Lobels on an unforgettable shopping spree. "In a delightful and unusual book, a boy trots down Market Street buying presents for a friend, each one starting with a letter of the alphabet. Every letter is illustrated by a figure ingeniously composed of, for instance, apples or wigs or quilts. The notion is original, and the sum total enjoyable and unique."--The Horn Book
A Caldecott Honor Book, a New York Times Best Illustrated book, an ALA Notable Book, and a Boston Globe/Horn Book Honor Book for Illustration
Supports the Common Core State Standards
Advertisement