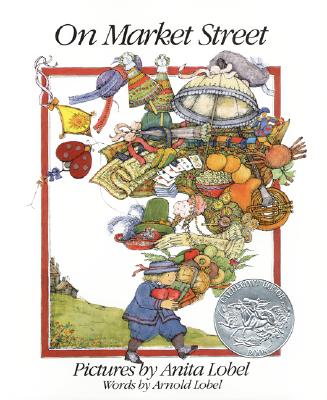 On Market Street 25th Anniversary Edition (Paperback)
Greenwillow Books, 9780688087456, 40pp.
Publication Date: February 7, 2006
* Individual store prices may vary.
Description
Have you ever seen a man dressed entirely in playing cards? Or a girl wearing a lollipop dress? Then take a stroll through a most unusual market in this Caldecott Honor Book created by Anita Lobel and Arnold Lobel.
Here is a world of wonders, from A to Z. Inspired by seventeenth-century French trade engravings, Anita Lobel's brilliant paintings of the shopkeepers on Market Street—each composed of his or her wares—will provide blissful hours for all who join the Lobels on an unforgettable shopping spree. "In a delightful and unusual book, a boy trots down Market Street buying presents for a friend, each one starting with a letter of the alphabet. Every letter is illustrated by a figure ingeniously composed of, for instance, apples or wigs or quilts. The notion is original, and the sum total enjoyable and unique."—The Horn Book
A Caldecott Honor Book, a New York Times Best Illustrated book, an ALA Notable Book, and a Boston Globe/Horn Book Honor Book for Illustration
Supports the Common Core State Standards
About the Author
Arnold Lobel (1933-1987) was the award-winning author and illustrator of many beloved children's books, including the classic I Can Read books about Frog and Toad, and the Caldecott Medal winning Fables.
Anita Lobel's name is synonymous with the best in children's literature. She is the creator of such classics as Alison's Zinnia and Away from Home, and she received a Caldecott Honor for her illustrations in On Market Street. She is the creator of two books about her cat, Nini, One Lighthouse, One Moon (a New York Times Best Illustrated Book), and Nini Here and There. Her childhood memoir, No Pretty Pictures: A Child of War, was a finalist for the National Book Award. Anita Lobel lives in New York City.