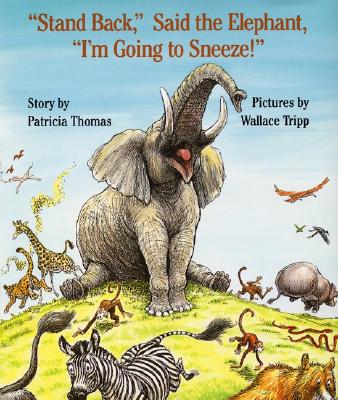 "Stand Back," Said the Elephant, "I'm Going to Sneeze!" (Hardcover)
HarperCollins, 9780688093389, 32pp.
Publication Date: April 23, 1990
* Individual store prices may vary.
Description
"A picture book filled with giggles." —Publishers Weekly
All the animals are in a panic. The elephant's sneeze would blow the monkeys out of the trees, the feathers off the birds, the stripes off the zebra! Even the fish and the fly, the crocodile and the kangaroo know what a catastrophe that sneeze would be. "Please don't sneeze!" they beg....
This classic story of an enormous sneeze in the marking, told in sprightly nonsense verse, is fun to share with a child at home or as a read-aloud at school. It's sure to make even wriggling little ones pay attention and join in!
About the Author
Patricia Thomas was raised on a small farm in western Pennsylvania and attended a one-room school. She received a B.S. degree from Pennsylvania State University. The author of several rhymed picture book texts, she now works as writer and editor of publications at Marywood College. She lives with her husband in Carbondale, Pennsylvania. They have four children and ten grandchildren.
Wallace Tripp studied at the Boston Museum of Fine Arts. He has illustrated more than fifty children's books. Mr. Tripp and his wife run a greeting card company in Peterborough, New Hampshire. They have three children, two dogs, and two cats.
Praise For "Stand Back," Said the Elephant, "I'm Going to Sneeze!"…
"The funniest title of the season is on the jacket of a picture book filled with giggles…Made funnier by Wallace Tripp's antic illustrations."
— Publishers Weekly