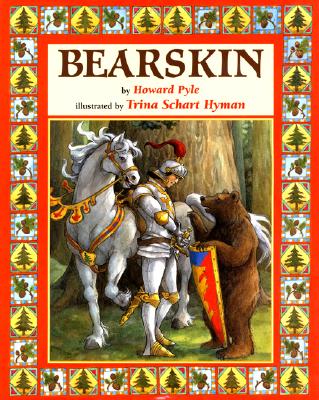 Bearskin
Hardcover

* Individual store prices may vary.
Description
Betrayed by his own father, the infant son of a lowly miller narrowly escapes death and is lovingly adopted by a faithful she-bear. Raised on her nourishing milk, the boy becomes the strongest man in the land -- and the only one brave enough to battle the kingdom's bloodthirsty three-headed dragon. Yet it is wit, not just courage and might, that the hero must employ to win his true desire: the delicate hand of a princess already betrothed to another.
Nothing could be more delicious than the marvelous quest that ensues -- a tale of romantic valor, stolen glory, and sweet justice. Caldecott Medalist Trina Schart Hyman has created a pictorial drama that is alive with good humor and splendid characters as forever memorable as Howard Pyle's timeless story. Here is a winning revival from the classic book The Wonder Clock that will surely be savored again and again.
HarperCollins, 9780688098377
Publication Date: September 26, 1997
About the Author
Howard Pyle (1853-1911) was a celebrated artist, author, and teacher -- and a primary figure in the history of children's literature. Not only did he guide and inspire such artistic talents as N. C. Wyeth, Maxfield Parrish, and Jessie Willcox Smith, but he was also a master storyteller in his own right. The Merry Adventures of Robin Hood, Pepper & Salt, and The Wonder Clock are among the many stories and folktales that he wrote and illustrated.
Trina Schart Hyman's
Saint George and the Dragon
was honored with a Caldecott Medal. She lives in Lyme, New Hampshire.
In Her Own Words...
"I was born in Philadelphia, Pennsylvania, in 1939. I spent my growing-up years in the little town of Wyncote, which was just north of the city. Our house was across the road from a lovely and mysterious old farm, so I grew up with horses and cows and geese and chickens, along with hay and manure and all the smells and sounds of farming. In those days there were woods and fields all around our house. We lived in the couritry, but we were only an hour away from the city. Both places seemed exciting and dangerous to me, and full of romance and magic.
"Romance and magic were very important to me. Fairy tales, folktales, and myths were--and still are--my favorite things. I loved to read and draw pictures more than anything, but I hated school and was miserable there. I couldn't concentrate, and I always felt like a dummy, because I didn't understand the rules that everyone else seemed to know. I have to admit that I still feel that way sometimes. I did manage to graduate from high school, though, and then I went to an art school in Philadelphia instead of college. It was so much fun that I actually learned a lot.
"It was there that I found out about the great book illustrators of the early 1900s: Arthur Rackham, Edmund Dulac, and the crazy Pre-Raphaelites in England; and Howard Pyle, N. C. Wyeth, and the serious students of the Brandywine School here in American. Their romantic and magical storytelling pictures inspired me and gave me courage. I was determined to follow in the footsteps of these artists and to carry on their tradition.
"In 1959 I got married and left Philadelphia. I spent the next few years traveling and attending art schools in Boston and in Stockholm, Sweden. I learned about book design and printmiaking, and how to cook and do laundry. in Sweden I learned about the artists Carl Larsson, Jon Bauer, and Sulamith Wulfing, Whose work inspired and influenced me.
"In 1961 I 'Illustrated my very first children's book, for a Swedish publisher. The editor who gave me the job was Astrid Lindgren, the author of the Pippi Longstocking books. Since then, I have illustrated about 150 books, give or take a few. I've tried to make each and every book special and beautiful. I've put a lot of myself my beliefs and interests, my friends and family and the places I've been -- into my pictures. All of the connections that I've figured out in my life are there for everyone to see, in all of my books.
"For the past thirty years I've lived in a big old farmhouse in northwestern New Hampshire. Some part of it always needs fixing -- there's always a room falling off or a roof caving in -- but to me it is home. Mostly there are walls and walls of books that hold it up and keep out the cold. I live here with my partner, jean, who helps me keep it all going, and our two dogs, two cats, and five sheep. jean is a teacher and the director of a little school where kids actually have fun learning.
"My daughter, Katrin, and her husband, Eugene, and their two sons, Michou and Xavi, live in a house that is only a few miles away, over the river and through the woods of Vermont. Michou goes to Jean's school. We are a close family, and we have a lot of fun together. That's it so far."
Peter Glassman is the owner of Books of Wonder, the New York City bookstore and publisher specializing in new and old imaginative books for children. He is also the editor of the Books of Wonder Classics, a series of deluxe facsimiles and newly illustrated editions of timeless tales. And he is the author of The Wizard Next Door, illustrated by Steven Kellogg. Mr. Glassman lives in New York City.
or
Not Currently Available for Direct Purchase