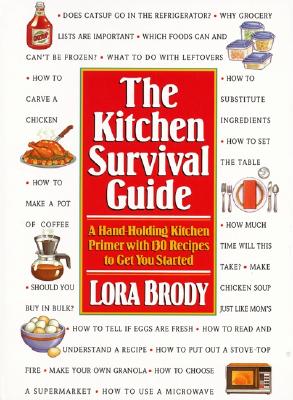 Kitchen Survival Guide (Paperback)
William Morrow Cookbooks, 9780688105877, 320pp.
Publication Date: June 16, 1992
* Individual store prices may vary.
Description
When Lora Brody, cookbook author, chocolate maven, and mother, sent her sons off into the world, she (and they) realized that they didn't have a clue as to how to feed themselves or their guests, if, heaven forbid, they should have any.
The Kitchen Survival Guide
is for anyone -- newly graduated, newly married, newly single -- who is venturing into the kitchen for the first time. With her on-target brand of humor, Lora Brody builds kitchen confidence with more than 130 basic recipes necessary to get through life, as well as hundreds of helpful hints Mom forgot to share:
On cleaning an oven -- "Manual cleaning oven, unfortunately, does not mean that a guy named Manuel will come and clean your oven."
What's the difference between dicing and chopping, zest and pith, or au gratin and au lait?
Survival recipes include tuna fish salad, homemade chicken soup, brownies, and many more.
Setting up a kitchen and keeping it clean and safe, how to buy and store food, a glossary of basic cooking terms, and what to do in the event of a culinary disaster are all covered in this handy, easy-to-use cookbook and kitchen compendium.
About the Author
Lora Brody is the author of twenty-two cookbooks including The Kitchen Survival Guide, The Entertaining Survival Guide, Bread Machine Baking: Perfect Every Time, Desserts from Your Bread Machine: Perfect Every Time, Growing Up on the Chocolate Diet, and Pizza, Focaccia, Flat, and Filled Breads from Your Bread Machine: Perfect Every Time. Her recipes have appeared in the New York Times Sunday Magazine, the Boston Globe, and the Los Angeles Times. She lives outside of Boston.
or
Not Currently Available for Direct Purchase