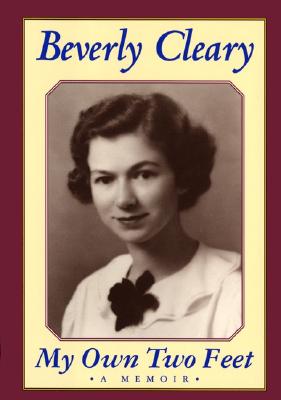 My Own Two Feet (Hardcover)
HarperCollins, 9780688142674, 288pp.
Publication Date: September 27, 1995
Other Editions of This Title:
Paperback (10/1/1996)
Prebound (10/1/1996)
* Individual store prices may vary.
Description
The New Yorker said of the first volume of Beverly Cleary's memoirs, "It is a warm, honest book, as interesting as any novel, and describes the growing-up process with remarkable clarity and candor." Now the creator of Ramona Quimby and Henry Huggins writes of her early adulthood with humor and insight, making Beverly Cleary's own story as lively and irresistible as any of her novels.
In 1934, Beverly Bunn left home to attend college in California, which she imagined as the land of orange groves and movie stars, far removed from the hardships of the Depression. As a young woman who 11 was sure where she wanted to go but did not know if she could find the money to get there," she juggled studies of Chaucer and French grammar with the many chores that came with life in a student cooperative house. She also found time to eat a bacon and tomato sandwich with a quiet young man named Clarence Cleary.
Work as a librarian brought her into contact with all sorts of youngsters, from the children of the unemployed to the offspring of doctors and lawyers. But it was the children who built scooters out of apple boxes and roller skates who truly inspired her. They asked, "Where are the books about kids like us?" and the young librarian responded with her first book, about a boy named Henry who had a dog named Spareribs-later changed to Ribsy.
Told with the deep understanding of human nature that has made her books beloved by three generations of readers, My Own Two Feet is a lively, unforgettable look at the early years of a woman whose books speak directly to the hearts and imaginations of children everywhere.
About the Author
Beverly Cleary is one of America's most beloved authors. As a child, she struggled with reading and writing. But by third grade, after spending much time in her public library in Portland, Oregon, she found her skills had greatly improved. Before long, her school librarian was saying that she should write children's books when she grew up.
Instead she became a librarian. When a young boy asked her, "Where are the books about kids like us?" she remembered her teacher's encouragement and was inspired to write the books she'd longed to read but couldn't find when she was younger. She based her funny stories on her own neighborhood experiences and the sort of children she knew. And so, the Klickitat Street gang was born!
Mrs. Cleary's books have earned her many prestigious awards, including the American Library Association's Laura Ingalls Wilder Award, presented to her in recognition of her lasting contribution to children's literature. Dear Mr. Henshaw won the Newbery Medal, and Ramona Quimby, Age 8 and Ramona and Her Father have been named Newbery Honor Books. Her characters, including Beezus and Ramona Quimby, Henry Huggins, and Ralph, the motorcycle-riding mouse, have delighted children for generations.
or
Not Currently Available for Direct Purchase