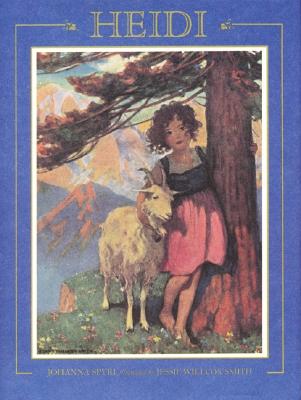 Heidi (Hardcover)
HarperCollins, 9780688145194, 408pp.
Publication Date: April 26, 1996
Other Editions of This Title:
Paperback (7/28/2019)
Paperback (10/14/2011)
Paperback (6/14/2019)
Paperback (1/3/2020)
Paperback (1/31/2018)
Paperback (9/6/2018)
Paperback (1/3/2020)
Paperback (6/19/2019)
Paperback (5/11/2013)
Paperback (7/30/2008)
Paperback (6/17/2014)
Paperback, Spanish (4/19/2017)
Paperback (9/24/2018)
Paperback (5/15/2017)
Paperback (9/30/2007)
Paperback (2/2/2009)
Paperback (8/14/2019)
* Individual store prices may vary.
Description
First published in 1880, Heidi introduces young readers and listeners to one of the most charming young heroines ever.
This beautiful, stirring novel tells of five-year-old Heidi, an orphan sent to live high up in the mountains with her cantankerous grandfather. Sweet-natured Heidi soon wins her grandfather's heart and makes friends with the lively young goatherd, Peter. Her newfound happiness ends quickly, however, when Heidi's aunt, Dete, takes her off to the city of Frankfurt to be a companion to a sickly child. Finally Heidi is restored to her Alpine home. And when her new friend, Clara, joins her in the mountains, Heidi's innocent charm and the majestic beauty of the Alps combine to work a healing miracle.
This edition of Heidi features ten gorgeous color plates and twenty-three black-and-white drawings by Jessie Willcox Smith. Smith's sumptuous pictures capture all the joy of this beloved classic, from the splendor of Switzerland's mighty Alps to the subdued drama of Clara's upper-class Frankfurt home to the exhilarating pleasure of an Alpine sleigh ride.
Now a whole new generation of young readers can fall under the enchanting spell that Heidi has cast for more than a century
About the Author
Johanna Spyri (1827-1901), a lifelong resident of Switzerland, began to write stories to earn money for refugees from the Franco-Prussian War. Heidi, her first novel, was also her most successful, though she wrote many other children's books. Spyri's firm belief in the natural innocence of children and their ability to grow up into decent, caring adults if left to their own devices was remarkably similar to that of her Danish contemporary, Hans Christian Andersen.

Jessie Willcox Smith (1863-1935) was one of the most popular and successful American illustrators of the early twentieth century. A student at Howard Pyle's Brandywine School of American Illustration, her hundreds of magazine illustrations and more than forty illustrated books include Robert Louis Stevenson's A Child's Garden of Verses (1905), Charles Kingsley's The Water Babies (1916), and George MacDonald's At the Back of the North Wind (1919) and The Princess and the Goblin (1920).

Peter Glassman is the owner of Books of Wonder, the New York City bookstore and publisher specializing in new and old imaginative books for children. He is also the editor of the Books of Wonder Classics, a series of deluxe facsimiles and newly illustrated editions of timeless tales. And he is the author of The Wizard Next Door, illustrated by Steven Kellogg. Mr. Glassman lives in New York City.
or
Not Currently Available for Direct Purchase