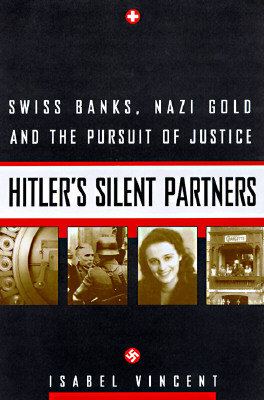 Hitler's Silent Partners (Hardcover)
Swiss Banks, Nazi Gold, And The Pursuit Of Justice
William Morrow, 9780688154257, 352pp.
Publication Date: October 8, 1997
Other Editions of This Title:
Paperback (12/16/1998)
* Individual store prices may vary.
Description
Vienna, 1939: "If anything happens to us, I have money in Switzerland."
These were among the last words that sixteen-year-old Renie Lang's grandfather said to her before he perished in the Holocaust. Fifty years later, Renee and thousands like her are trying to find their rightful inheritances in Swiss banks -- and the world faces appalling revelations that "neutral" Switzerland acted as secret banker to the Nazis, abetting the German war against the Jewish people.
Award-winning journalist Isabel Vincent unravels the labyrinthine story behind the headlines: how desperate men and women tried to secure their families' futures by opening bank accounts in Switzerland; how the Nazis laundered, through Swiss banks, gold seized from the treasuries of occupied countries, much of it looted from the Jews; how the demands of international business, Swiss bank secrecy, and greed have conspired to prevent the truth from being disclosed for over half a century and still prevent restitution.
Balanced, rigorous, and often heartbreaking, this major work also gives a human face to the statistics: a crusading Toronto lawyer; Edgar Bronfman, the passionate head of the World Jewish Congress; a Swiss parliamentarian determined to discover her country's past; and Renie, a survivor waiting in the shadows for some small justice, already a little too late.
About the Author
Isabel Vincent is an award-winning investigative journalist currently working for the New York Post. She is the author of Bodies and Souls: The Tragic Plight of Three Jewish Women Forced into Prostitution in the Americas; Hitler's Silent Partners: Swiss Banks, Nazi Gold, and the Pursuit of Justice; and See No Evil: The Strange Case of Christine Lamont and David Spencer. Her work has appeared in the New Yorker, the New York Times "T" Magazine, the Independent, Marie Claire, L'Officiel (Paris), and many other international publications. She lives in New York City.
or
Not Currently Available for Direct Purchase