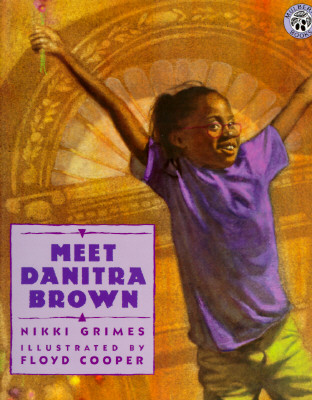 Meet Danitra Brown
Paperback

* Individual store prices may vary.
Description
This spirited collection of beautifully illustrated poems introduces young readers to Danitra Brown, the most splendiferous girl in town, and her best friend, Zuri Jackson. "The poignant text and lovely pictures are an excellent collaboration, resulting in a look at touching moments of universal appeal." (School Library Journal)
This story of girl friendship and support resonates today more than ever. Perfect for sharing with early grade individuals and groups, including for units on poetry and empathy, kindness, and friendship.
"In a lively cycle of 13 poems, Zuri Jackson celebrates her vibrant best friend Danitra. Danitra shares work, play and confidences with equal verve, knows how to defuse a mean tease or comfort a friend, and loves to wear purple. The joyous portrayal will appeal to a broad age range." (Kirkus)
New York Times bestselling author Nikki Grimes is the recipient of the 2020 ALAN Award for outstanding contributions to young adult literature, the Children's Literature Legacy Award, the Virginia Hamilton Literary Award, and the NCTE Award for Excellence in Poetry for Children. Floyd Cooper's many acclaimed books included The Blacker the Berry, for which he received a Coretta Scott King Illustrator Award
ALA Notable Book * Coretta Scott King Award Honor Book * Sequoyah Children's Book Award Masterlist * Tennessee Volunteer State Book Award Nominee * Pennyslvania Young Readers' Choice Master List
Some kids at school have a mom and a dad.
I've got Mom and me only.
On Parents' Night it makes me mad
that it's Mom and me only.
"You've got it good," Danitra says when I am sad.
"Your mama loves you twice as much. Is that so bad?"
Danitra knows just what to say to make me glad.
With her around, I'm never lonely.
HarperCollins, 9780688154714, 32pp.
Publication Date: September 22, 1997
About the Author
Nikki Grimes began penning poetry at the age of six. Her many award-winning titles include the picture books Talkin' About Bessie: The Story of Aviator Elizabeth Coleman, which won the Coretta Scott King Illustrator Award and a Coretta Scott King Author Honor, and Meet Danitra Brown, which won a Coretta Scott King Illustrator Honor. Coretta Scott King Author Honors went to her novels The Road to Paris, Jazmin's Notebook, and Dark Sons, and her novel Bronx Masquerade won the Coretta Scott King Author Award.
In 2017, Nikki Grimes was honored by the American Library Association with the Laura Ingalls Wilder Award in recognition of her substantial and lasting contribution to literature for children.
She lives in Corona, California.
Floyd Cooper received a Coretta Scott King Award for his illustrations in The Blacker the Berry and a Coretta Scott King Honor for Brown Honey in Broomwheat Tea and I Have Heard of a Land. Born and raised in Tulsa, Oklahoma, Mr. Cooper received a degree in fine arts from the University of Oklahoma and, after graduating, worked as an artist for a major greeting card company. His many beloved books form a lasting legacy.