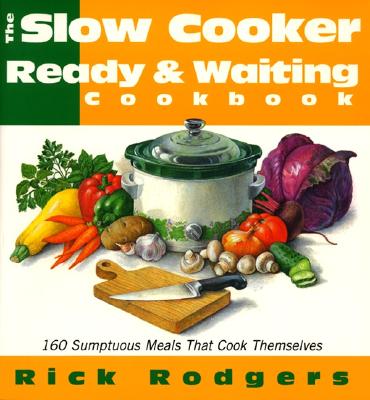 Slow Cooker Ready & Waiting (Paperback)
160 Sumptuous Meals That Cook Themselves
William Morrow Cookbooks, 9780688158033, 256pp.
Publication Date: January 21, 1998
* Individual store prices may vary.
Description
Hearty stews. Rib-sticking chilis. Tender pot roasts. The real secret is a long, slow simmer at a constant temperature, and no appliance does this better than the slow cooker. If your old slow cooker recipes disappointed you, throw them away! The Slow Cooker Ready and Waiting Cookbook is for people who love good food!
Rick Rodgers has adapted an eclectic array of American and ethnic dishes for the slow cooker. They're all here: fancy fare (Farmer's Market Lobster and Corn Chowder, Sweet and Sour Brisket, Erna's Sauerbraten), everyday favorites (Ground Beef Chili with Cornmeal Dumplings and Herbed Tomato Sauce with Parmesan Meatballs), side dishes (Potatoes Euphoria, Smothered Green Beans, Sugarbush Beans) -- even desserts (Strawberry-Strawberry Cheesecake, Bourbon Bread Pudding, and Lemon-Raspberry Pudding Cake). Ideal for entertaining, the slow cooker keeps crowd-pleasing dips and holiday punches warm from the beginning of the party to when the last guest leaves.
A special section explains how to choose the right-size slow cooker for your needs, how to adapt a favorite recipe, and what can (and can't) be prepared in a slow cooker.
About the Author
Rick Rodgers is the author of more than thirty-five cookbooks, including the bestselling 101 series (Thanksgiving 101, Christmas 101, Barbecues 101) and beloved cookbooks on everything from fondue to slow cookers to comfort food. His recipes have appeared in Cooking Light, Fine Cooking, and Food & Wine and on epicurious.com, and he is a frequent contributor to Bon Appétit. He lives in the New York tristate area.