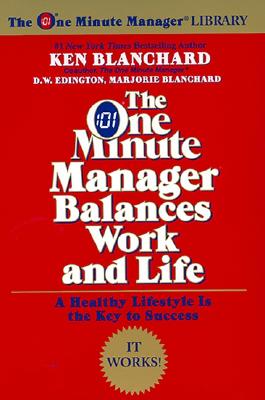 The One Minute Manager Balances Work and Life
Paperback

* Individual store prices may vary.
Description
The One Minute Manager Balances Work and Life offers a way to achieve not only a new, healthier style of living but increased productivity as well. For the millions of readers of Ken Blanchard's bestselling books--includingRaving Fans and Gung Ho!--here's invaluable advice for getting the most out of life.
This is the story of a One Minute Manager who was so successful in every way that he forgot one important thing: He forgot to stay physically fit. He was so much in demand that he ate on the run, didn't take time to exercise, and all the while saw his weight balloon and his breath grow shorter. He soon discovered success in business was endangering his health. His life was out of balance.For all those busy, achieving people with overcrowded schedules, here is a useful blueprint that shows how to manage stress and make a lifetime commitment to fitness and well-being. By following four important strategies for balancing a complicated life, everyone can get their bodies back into shape and their lives into proper perspective.
William Morrow Paperbacks, 9780688168506, 128pp.
Publication Date: March 17, 1999
About the Author
Ken Blanchard, PhD, is one of the most influential leadership experts in the world. He has co-authored 60 books, including Raving Fans and Gung Ho! (with Sheldon Bowles). His groundbreaking works have been translated into over 40 languages and their combined sales total more than 21 million copies. In 2005 he was inducted into Amazon's Hall of Fame as one of the top 25 bestselling authors of all time. The recipient of numerous leadership awards and honors, he is cofounder with his wife, Margie, of The Ken Blanchard Companies®, a leading international training and consulting firm.
Ken Blanchard, chairman of The Ken Blanchard Companies, is the co-author of
The One Minute Manager
and eleven other bestselling books. His books have combined sales of more than 12 million copies in more than 25 languages. He lives in San Diego, California.
D. W. Edington is a professor of kinesiology at the University of Michigan. He is also director of the Management Research Center at the university. He received his B.S. in mathematics and Ph.D. in physical education from Michigan State University, completed postdoctoral work at the University of Toronto, and taught at the University of Massachusetts prior to coming to Michigan in 1976.
Dr. Edington is the author and coauthor of numerous articles and books, including The Biology of Physical Activity (with V. Reggie Edgerton) and Frontiers of Exercise Biology (with Katarina Borer and Tim White). His work with the Health Risk Appraisal and corporate health evaluation programs is considered to be the model for cooperate development plans in the wellness area.