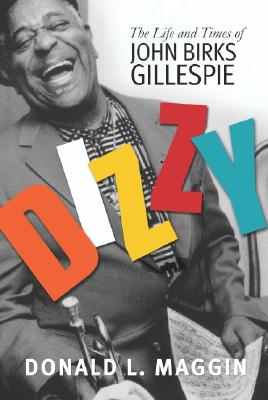 Dizzy (Hardcover)
The Life and Times of John Birks Gillespie
It Books, 9780688170882, 432pp.
Publication Date: March 15, 2005
Other Editions of This Title:
Paperback (3/28/2006)
* Individual store prices may vary.
Description
Dizzy Gillespie has secured his place in the jazz pantheon as one of the most expressive and virtuosic improvisers in the history of music. But he was much more than that. As one of the primary creators of the bebop and Afro-Cuban revolutions, he twice fundamentally changed the way jazz improvisation was done. And he later extended his revolutionary reach by transforming the aesthetic of big band jazz.
This vivid biography chronicles Dizzy's saga from the lowest rung on the American social and political ladder to the highest. Born black in fiercely racist Cheraw, South Carolina, in 1917, Dizzy combined great energy, a furious drive to succeed, and a one-in-a-million talent to climb quickly out of rural poverty to a role among the Swing Era jazz elite before his twenty-first birthday.
Author Donald L. Maggin shows how, with bebop during the late 1930s and early 1940s, Dizzy and four colleagues -- Charlie Parker, Kenny Clarke, Thelonious Monk, and Charlie Christian -- radically expanded the rhythmic and harmonic foundations of jazz. And he illustrates how Dizzy and Mario Bauzá recast the music duing the late 1940s by enriching it with invigorating and exciting Afro-Cuban polyrhythms. He also relates how Dizzy and his colleagues endured a torrent of criticism before their innovations were accepted into the mainstream.
Dizzy's story takes us on the road with the great Calloway, Hines, and Eckstine bands and to Cheraw's cotton fields, Harlem's afterhours clubs, the teeming 1940s Fifty-second Street jazz scene, the rhythmic barrios of Havana, Rio's samba festivals, the White House, and the world's great concert halls as Dizzy teamed up with prodigious talents to make great music during a career spanning fifty-five years. It also records his spiritual growth over the decades and the intense love he earned from those close to him.
As an entertainer Dizzy combined his electrifying musicianship with an infectious warmth and rare comedic skills, becoming beloved worldwide and achieving a popularity that few jazz musicians have ever enjoyed.
About the Author
Donald L. Maggin is the author of Stan Getz: A Life in Jazz. A writer and businessman, he has produced jazz concerts by such artists as Max Roach, Sonny Stitt, James Moody, Roland Hanna, Eubie Blake, and Roberta Flack. He was a board member of the American Jazz Orchestra, served in the Carter White House for three years, is an editor of the literary journal The Reading Room, and is a trustee of the Cathedral of St. John the Divine in New York.
or
Not Currently Available for Direct Purchase