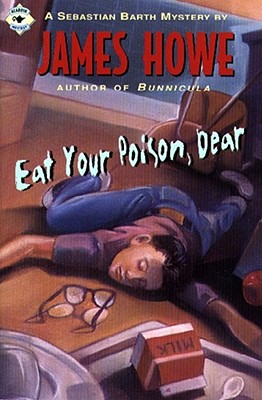 Eat Your Poison, Dear (Sebastian Barth Mysteries) (Paperback)
Atheneum Books for Young Readers, 9780689803390, 144pp.
Publication Date: September 1, 1995
* Individual store prices may vary.
Description
Cafeteria food may be hazardous to your health.
Poor Milo Groot -- he's sprawled on the cafeteria floor, his cracked glasses inches away from his white face. Could it be the apple chili dogs?
Could it be poison?
Kids at the middle school are dropping like flies, and Sebastian Barth suspects there's something fishier than tuna dreamboats behind the epidemic. The trouble is, too many cooks have had the chance to spoil the stew.
Sebastian finds out.
At least he thinks he does, but he soon discovers that whipping up a dramatic disclosure without all the ingredients is a recipe for disaster.
About the Author
James Howe is the author of more than ninety books for young readers. Bunnicula, coauthored by his late wife Deborah and published in 1979, is considered a modern classic of children's literature. The author has written six highly popular sequels, along with the spinoff series Tales from the House of Bunnicula and Bunnicula and Friends. Among his other books are picture books such as Horace and Morris but Mostly Dolores and beginning reader series that include the Pinky and Rex and Houndsley and Catina books. He has also written for older readers. The Misfits, published in 2001, inspired the antibullying initiative No Name-Calling Week, as well as three sequels, Totally Joe, Addie on the Inside, and Also Known as Elvis. A common theme in James Howe's books from preschool through teens is the acceptance of difference and being true to oneself. Visit him online at JamesHowe.com.