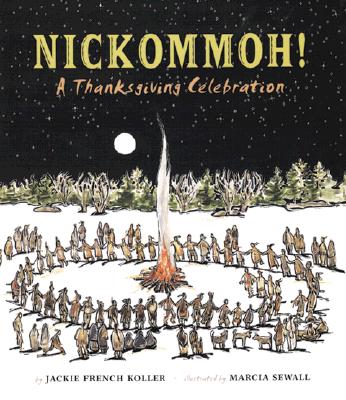 Nickommoh (Hardcover)
A Thanksgiving Celebration
Atheneum, 9780689810947, 32pp.
Publication Date: October 1, 1999
* Individual store prices may vary.
Description
It is Taqountikeeswush,
the Moon of the Falling Leaves.
The Creator's gifts have been harvested, dried, and tucked away
in auqunnash storage bins] in the bosom of Earth Mother. They will
provide for the People all through the
long, cold months to come, the long, cold months of Papone. It is time,
now. Time for the People to come
together, together to give thanks.
NICKOMMOH
Long before the Pilgrims celebrated their first Thanksgiving at Plymouth, the Native Americans of the area celebrated the harvest during a feast called "Nickommoh," meaning "give away" or "exchange." The Pilgrims' Thanksgiving was actually more similar to this traditional Native American celebration than to the holiday as we celebrate it today. Jackie French Koller's festive prose poem brings to life the weaving rhythms of this harvest celebration, as the People come together from villages near and far to construct sweat lodges, eat turkey and sweet cakes, play games, and dance and sing beneath the star blanket that Moon Sister has drawn across the sky. Marcia Sewall uses her considerable knowledge of the Narragansett people to portray in striking pictures the ancient patterns of our first purely American holiday.

or
Not Currently Available for Direct Purchase