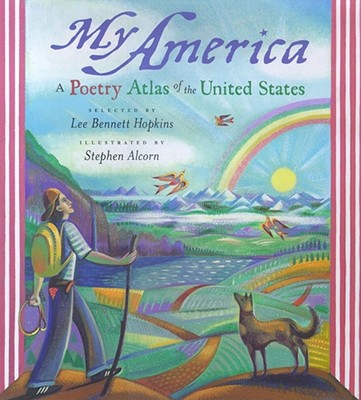 My America
A Poetry Atlas of the United States
Hardcover

* Individual store prices may vary.
Description
In My America, Lee Bennett Hopkins weaves together fifty poems -- grouped by geographic region -- to create a remarkable portrait of the United States. Here is America in all its stunning variety, from the dramatic seacoast of the Northeast and the rippling cornfields of the Plains States to the shimmering deserts of the Southwest and the majestic redwood forests of the Pacific Coast. But here, too, are the ties that bind this nation together -- the hopes and dreams of those who live in our cities and towns and on farms.
The voices of beloved poets like Langston Hughes, Carl Sandburg, Nikki Giovanni, and Lilian Moore blend with new voices to sing not just of landmarks like the Mississippi River, the Grand Canyon, and the Everglades, but of daily life across the land. Complementing these personal, moving visions of America are maps of the regions and fascinating facts for each state.
Stephen Alcorn's brilliant, textured artwork makes this book a feast for the eyes as well as for the imagination. Impressive for its breadth, depth, and beauty, My America is a volume readers will savor as they read it time and time again. It is fitting homage to our wideranging, ever-changing land.
Simon & Schuster Books for Young Readers, 9780689812477, 96pp.
Publication Date: September 1, 2000
About the Author
LEE BENNETT HOPKINS is a distinguished poet, writer, and anthologist whose poetry collections include the highly acclaimed Hand in Hand: An American History Through Poetry, illustrated by Peter Fiore, and My America: A Poetry Atlas of the United States, and America at War, both illustrated by Stephen Alcorn. Mr. Hopkins's numerous awards include the University of Southern Mississippi Medallion for "lasting contributions to children's literature" and both the Christopher Award and a Golden Kite Honor for his verse novel Been to Yesterdays: Poems of a Life. He lives in Cape Coral, Florida.

Born in the United States, Stephen Alcorn spent his formative, teenage years in Florence, Italy, where he attended the Istituto Statale d'Arte, an experience that infused his work with an appreciation for history and a passion for experimentation in a multitude of mediums. Since then he has embraced an equally broad spectrum of themes and subjects, including the interpretation of literary classics, interpretation of poetry, nineteenth-century American history, and notably, the African-American experience -- resulting in a stream of award-winning projects for adult, young adult, and young readers alike. America at War is Alcorn's fifth collaboration with Lee Bennett Hopkins.

Mr. Alcorn lives with his wife, Sabina, and four cats in an eighteenth-century farmhouse in the heart of Cambridge, New York, surrounded by the pastoral farmland of Washington County. An overview of his work may be viewed at www.alcorngallery.com.