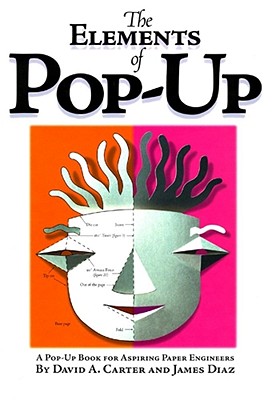 The Elements of Pop-Up (Novelty book)
Little Simon, 9780689822247, 18pp.
Publication Date: October 1, 1999
* Individual store prices may vary.
Description
Here at last is the definitive book on how to make a pop-up. Every aspect of the creation of a pop-up, known as paper engineering, is clearly and thoroughly covered. All types of parallel folds, angle folds, wheels, and pull tabs are accurately detailed verbally and visually, flat and in dimension. Also included is a history of pop-ups and a step-by-step photographic essay on how a pop-up is made from start to finish. This guided tour is perfect for aspiring pop-up creators, paper engineers, students, and appreciators of this unique art form.
About the Author
David A. Carter is a master paper engineer and creator of the Bugs series, which has sold more than 6 million copies. Also the author and illustrator of the critically acclaimed Color series, featuring One Red Dot, Blue 2, 600 Black Spots, Yellow Square, and White Noise, he lives in Auburn, California, with his wife and two daughters.