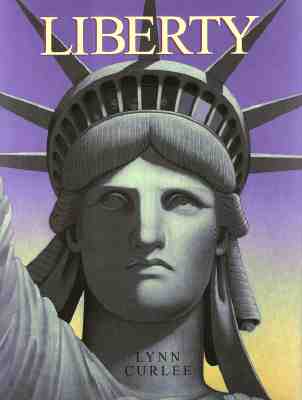 Liberty (Hardcover)
Atheneum Books for Young Readers, 9780689828232, 48pp.
Publication Date: May 1, 2000
* Individual store prices may vary.
or
Not Currently Available for Direct Purchase
Description
"Give me your tired, your poor, your huddled masses yearning to breathe free..."
These famous words mark the pedestal of the most colossal metal statue ever made, and perhaps the most famous and beloved sculpture in the world: the Statue of Liberty. Lifting her torch high above the waters of New York Harbor, Lady Liberty has welcomed generations of people seeking freedom and a better way of life in America.
Lynn Curlee has created a testimony to this monument as breathtaking as Lady Liberty herself in this inspiring account of the statue's history. Curlee traces the evolution of the statue's design and details the monumental feat of its construction. The French sculptor Bartholdi was commissioned to design the giant statue, which was to commemorate the first one hundred years of American independence and the friendship between France and the United States. Liberty was assembled in puzzlelike copper segments suspended from a system of iron girders. On a cloudy day in 1886, Lady Liberty's awesome face was unveiled at last. And in 1986, for the occasion of her centennial celebration, she was treated to an extensive renovation, so that the light of Liberty might continue to enlighten the world.
Advertisement