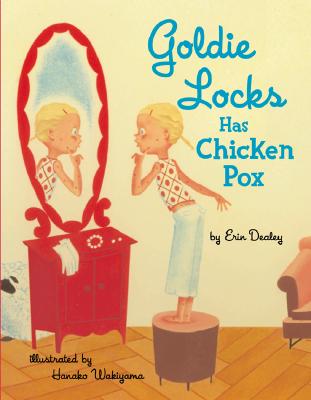 Goldie Locks Has Chicken Pox (Hardcover)
Atheneum Books for Young Readers, 9780689829819, 40pp.
Publication Date: February 1, 2002
Description
Goldie Locks has chicken pox;
from head to toe were polka dots....
When Goldie Locks spies her first spot, her mother knows it must be chicken pox. She immediately calls the Three Bears, apologizing for the chair, to see if Baby Bear has chicken pox, too. Soon, a steady stream of storybook favorites -- from Little Bo Peep to Henny Penny -- stop by to visit the bedridden child. All the while, Goldie Locks tries to ignore her brother's relentless teasing about her spotted exterior. But as more visitors arrive, her pox-free brother, in a fit of jealousy at the attention his sister is getting, intensifies his teasing, until suddenly all eyes are on him, but not for the reason he thinks...
Praise For Goldie Locks Has Chicken Pox…
"Great fun to look at."
--Kirkus Reviews




"This fond look at old-fashioned fairy tales and family-sitcom dynamics injects wry touches that let readers in on the joke."
--Publishers Weekly




"This combination of fairy-tale fantasy and domestic realism just might win a smile from young patients and from those adults who can appreciate the nostalgia."
--School Library Journal
Advertisement